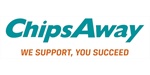 ChipsAway - Car Paint Repair Franchise
'On-the-spot' automotive paint repair specialists. Scope for becoming a multi-van or multi-unit operation in this vast, growing marketplace.
Watch Video
Finance requirements

Franchise Fee:

£29,995 + VAT

Liquid Capital:

£15,000

Minimum Investment:

£15,000

Areas Available

Franchise opportunities available all over the UK and world-wide.
Profile
Engineer a prosperous, secure future with ChipsAway
Be your own boss and enjoy being part of the ever-expanding automotive industry with a turn-key ChipsAway franchise. Research shows we're recognised by 11 times as many customers as our nearest competitor, meaning we're always top of the list for the nation's car repairs. So, when you launch a franchise with us, you'll automatically become one of our hundreds of other successful business owners.
Want to launch your own ChipsAway franchise, but not sure it's right for you? Here's why it is:
We supply an average of 1,000+ leads per ChipsAway franchisee each year, meaning we bring the business to you
Many of our specialists achieve turnovers in excess of £80,000 a year, which equates to earnings of £50k+*
National TV and online advertising campaigns keep our network front of mind for people in your area
ChipsAway has been established for over 25 years – we're recession proof with a proven business model and hugely experienced support team
Studies show that franchises have a success rate of approximately 90 percent, compared to only about 15 percent for businesses that are started from the ground up.
We give you all the support and training you need to launch your successful franchise including technical training, sales and marketing support and business mentoring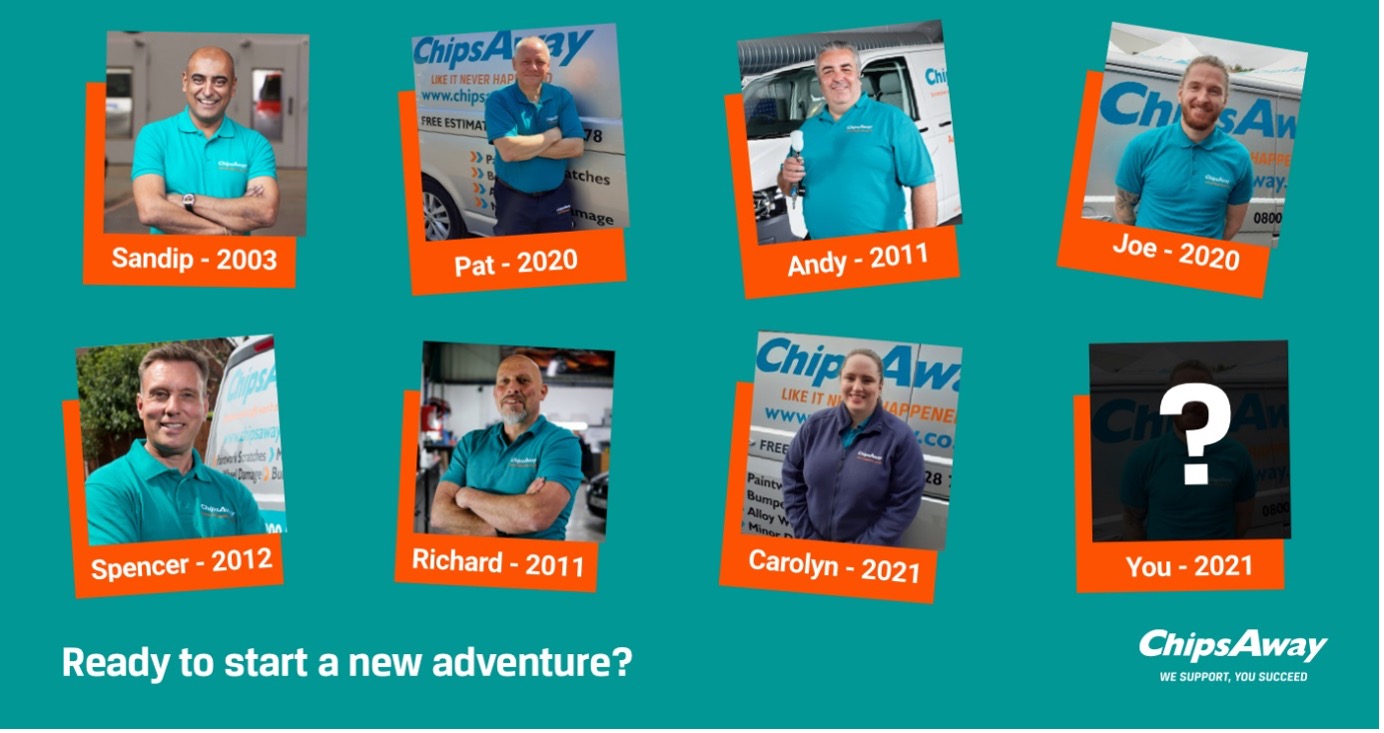 Read on to learn more about ChipsAway, and how you can create a better lifestyle for you and your family through franchising with us.
Are you ready for something more?
Whether you want job security, want to fit work around the most important people in your life, want to earn more or just want a more flexible lifestyle, you can have it all with the ChipsAway franchise.
Our franchisees tell us that launching a business with ChipsAway gives them more satisfaction and freedom than any previous job role, providing them the opportunity to perfectly balance professional and personal commitments. That's because with ChipsAway, you're free to choose how much work you take on, and when you do that work.
Plus, they get the satisfaction of being out on the road, meeting new people every day who they're proud to deliver an outstanding service for. Every day is different, but every day is worthwhile.
Who Are ChipsAway?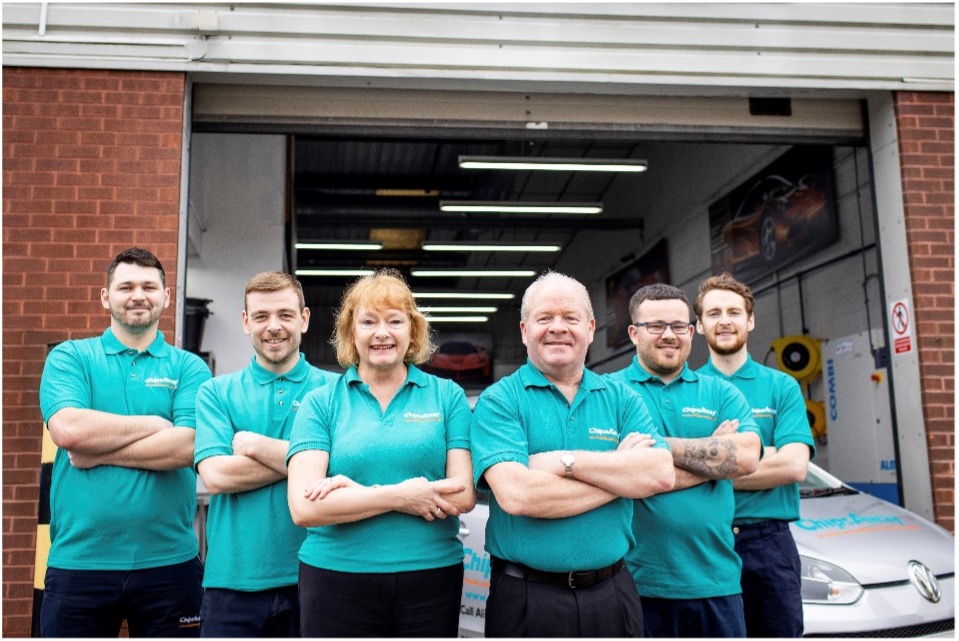 ChipsAway was launched in the UK in 1994, and today provides SMART (Small to Medium Area Repair Technology) repair technology to car owners across the country.
With a rapidly expanding network of over 200 franchisees in the UK, we now have the largest network of repair specialists in the UK, who provide high quality, value-for-money repairs to car paintwork, on a same-day basis.
Our specialists work from vehicles fully equipped as mobile workshops, or fixed-base units known as Car Care Centres.
Getting started with ChipsAway
Established for over 25 years, our market-leading car repair franchise makes it simple and straightforward for you to start your own business.
You don't need any car body repair experience because you'll receive four weeks of expert, hands-on car repair training at our bespoke facility – accredited by the Institute of the Motor Industry (IMI) – before you start work.
How much will you need to invest to get started?
Your ChipsAway franchise will cost £29,995 +VAT, but with our various pricing options you'll only need £15,000 +VAT to get started.
How do you know whether this franchise will work for you?
Everything is set up for you to succeed from the minute you launch your franchise because although you'll be your own boss, you definitely won't be going it alone.
As well as offering practical and technical training in all elements of the service you'll deliver, we provide a course in sales and marketing, unlimited support from our head office and supply you with a business mentor – an experienced franchisee – who you can call whenever you need to.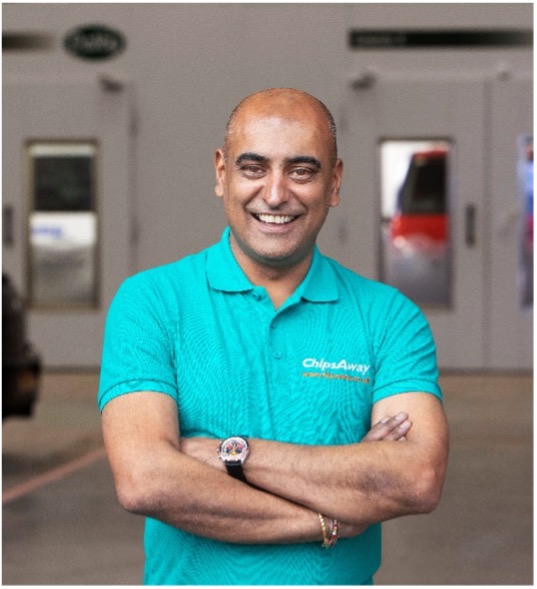 The ChipsAway business model can be adapted to suit your aspirations and lifestyle, so the opportunities for you are unlimited. If you're a motivated individual willing to take on an exciting new challenge, you can enjoy all the benefits of being part of a franchise network and have the chance to improve your future.
The ChipsAway franchise package includes all the essential components for business success, including:
Full sales and marketing support
IT and accounting systems
Technical training
Business mentoring
Digital marketing and PR support
All of this, as well as the fact our franchisees receive an average of over 1,000 customer leads per year as a result of the national marketing activity done centrally, means you can get up and running quickly and profitably, with the reassurance you'll have a regular flow of eager customers.
What does success look like?
The beauty of running your own business with ChipsAway is that you define your own success. Some franchisees work from a single van, happy to go it alone and celebrate their own financial milestones. Others wish to expand their network, opening several franchises and employing multiple members of staff. Meanwhile, some engineers opt to set up a Car Care Centre which acts as a HQ for their empire.
However you choose to work with ChipsAway, we'll help you reach your ambitions.
A ChipsAway success story
Keith McGowan has been with ChipsAway since 2001 and has the biggest ChipsAway Car Care Centre in the UK. Turning over more than £1million, he demonstrates what's possible if you're prepared to put in the work.
Request a free info pack today to read his full story.
Behind the scenes with a ChipsAway franchisee

Self-employment had always been an ambition of Colin Hall's, but he had reservations about such a big step. Encouraged by friends who knew his dream was to run his own business, Colin came across ChipsAway which had the reputation, authority and ready-made package of support he needed to take the leap.
He said: "I've got two young children and a mortgage, and the thought of not having enough work to keep me busy or bring in enough income was daunting. But speaking to the team gave me all the reassurance I needed that I'd be provided with enough leads to build a successful network of my own. I decided to get involved and I've never looked back.
Within six months of becoming a ChipsAway franchisee, Colin had built up a network of customers which sees him repair more than 40 cars per month, resulting in income of over £9,000. For Colin, though, the true benefit of franchising has been the flexibility it allows to be more present at home than ever before.
He said: "My working hours vary around my family, which is a huge bonus. I'm able to pick my children up from school and enjoy a big part of their day, then organise the business admin around their schedule. The improved work-life balance has definitely been the best part about moving to self-employment with ChipsAway. I'm so much happier.
If you'd like to learn more about ChipsAway, request your free info pack below.
*Full details can be provided upon request.
Case Studies
After completing an engineering degree at University and starting a career in the Oil and Gas industry, he decided after a few years that he wasn't maximising his full potential. After spotting a ChipsAway van and seeing the sophisticated interior workshop, he knew it was for him. "I decided ...