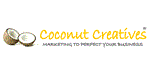 Coconut Creatives - Franchise Marketing
The leading, award-winning, bfa-accredited marketing company that has specialised in franchise recruitment for over a decade.
Finance requirements

Areas Available

UK
Profile
Supercharge YOUR Franchise with Coconut Creatives
Coconut Creatives is the leading, award-winning, bfa-accredited marketing company that has specialised in franchise recruitment for over a decade. Our clients range across industry, sector and size.  We manage annual budgets from £20k - £500k all with a focus on:
YOUR marketing strategy & impact
Improving franchisee conversion ratios
Using tools that deliver results
Our Franchise Recruitment Marketing Workshops (sponsored by RBS) have been adopted by almost 200 brands to date and are QFP accredited by the bfa. We run the national NatWest Franchise Seminar programme, co-chair EWIF (Encouraging Women into Franchising) and look after national and global franchising brands.
Coconut's specialist team can provide:
Strategic direction
Marketing communications planning
Prospectus and collateral development
Website design, content and SEO
Graphic design and brand development
Copywriting
PR and media relations
CRM process and system solutions for franchisors.
All tailored to the franchise sector and your individual industry.
QFP Franchisor Marketing Workshops
Contact us to find out which remaining workshops are available this year and take away market-leading techniques to implement yourself. Topics cover setting a SMART approach to franchisee recruitment, the role of social media in recruitment, how to motivate your franchisees and how to exhibit effectively for franchisee recruitment. You can also earn QFP points at each of our QFP workshops!
Franchisee training now available too!
Coconut Creatives also run the increasingly popular Market Your Franchise training programme for franchisees. We help by providing your network with a market-leading training programme specifically aimed at franchisees that will improve their sales and thus, improve yours. As part of this programme, franchisors are supplied with the 'Investors in Franchisees' logo, which can be used on franchise recruitment collateral to give you an extra edge when discussing your franchise benefits with prospects.
Next Steps!
The first step in working with us is to book a strategy session where we go through your business in detail and provide you with an Action Plan document that you can take forward. Enquire now!
"The advice and guidance we have received from Sarah and her team has been invaluable and by following the marketing structures they outline we have been able to halve our franchise recruitment conversion rate. In real terms this means significantly less outlay to find new franchisees and has helped us to grow the network by 150% in the past 2 years."
Jim Suswain, Wagging Tails
Contact Coconut Creatives using the form below.