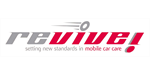 Revive! - Car Franchise
The Revive! franchise involves carrying out minor paint and and bodywork repairs for cars to private and corporate customers.
Watch Video
Finance requirements

Franchise Fee:

£27,500 + VAT

Minimum Investment:

£27,500

Areas Available

All areas throughout the UK and Scotland
Profile
Accelerating you into business

One of the UK's leading franchise opportunities – proven
Revive! is a multi-award-winning franchise offering a tried and tested route to building your own successful multi-van smart repair business.
"We employ 18 staff across five territories and aim to grow to £2m turnover by 2020."
Adam, Andy & Nathan, East Anglia
"I have built strong relationships with local dealerships providing regular work."
Irmina Kowalska, Basingstoke
"Revive! actively train you to expand and transition to become a business leader."
Stuart Brierley, Swindon
"We chose a franchise to take control of our future and grow a business with support."
Mike & Liz Hasleden, Chester
Could you be our next success story?
You need to be business-minded, commercially astute, organised and an excellent communicator. If you want to paint and repair vehicles yourself then a Revive! management franchise is not for you. If you are hungry for success, we can provide you with a business model that, if followed, will enable you to build a substantial business, and an asset to sell in the future.
Work 'ON'
your business
Proven £1M+
per territory
6-8 vans
per territory
Bespoke online business
management tool
HQ business support
'Dream Team'
Multi-territory
potential
Business support is where we excel
Guidance and support throughout your business journey is provided by our passionate 'dream team', assembled over the years from the franchise industry's elite.
Helping you attract, train and retain the best technicians
Our recruitment techniques, industry-leading certified technician training and career development programmes are proven to develop and engage top performing staff.
Helping you work 'on' your business
Our bespoke, ever-evolving business management system simplifies your admin, provides powerful data for benchmarking and enables you to drive profitability in your business.
Helping you win more business
We will show you how to build a core base of repeat work in your area, supplemented by our booming national accounts programme servicing four of the big seven dealer networks. Contact us to discuss how much work is currently available in your preferred territory…
Helping raise awareness of your business
As well as raising brand awareness nationally, we support you to promote your business locally. Our 5* Trustpilot rating and motorsport sponsorship position Revive! as a national brand at a local level, giving credibility to your business.
Your journey
Stage 1
Employ your first technicians and develop your local contacts. Service your local contracts and deliver on national accounts work.
Stage 2
Grow your business up to 6-8 vans with regular repeat income. Direct your management team as MD working 'ON' your business.
Stage 3
Scale up your business and enjoy the freedom to choose where you spend your time and money, and the lifestyle you want to lead.
Stage 4
Plan your exit, whether that is family succession, a management buy-out or selling to a new or neighbouring franchisee.
Our numbers stack up
Demand – more than 50% of the UK's 37.5m vehicles have damage to bodywork or wheels. Regular repeat work comes from relationships with local dealerships and our national accounts contracts, complemented by repairs for private car owners in your region.
Investment – To setup your new business you will need to invest £32K + working capital. Our bank approved business model enables you to borrow up to 70% of the TOTAL initial investment, including the projected working capital.
Returns – our management business model is proven to generate six-figure incomes and offers almost unlimited potential earnings with multi-territory expansion. We offer you the opportunity to drill into the figures at a one-2-one meeting with our franchise director, Cathryn Hayes.
If you are looking for the best management business opportunity in the UK, please do your due diligence on us, we promise you won't be disappointed.
News
Revive!: The UK's leading car repair franchise offers new franchise opportunities in Scotland and Northern Ireland

10 December 2013

Automotive franchise opportunities are often considered to be one of the most interesting franchise opportunities in the UK. The automotive industry is huge and demand for body work repair at a domestic and commercial level are growing every year. The Revive! team have almost 20 years ...
06 December 2013

"revive! has grown outwardly from our base in Rugby, by inviting ambitious, commercially minded people to join us as franchisees and replicate our proven business model. Individual territories packed with opportunities have now been identified throughout Scotland and Northern Ireland so this ...
Videos
14 April 2010

Revive! Managing Director Mark Llewellyn discusses the opportunity with FranchiseSales.