Refresh Renovations Franchise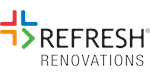 Refresh Renovations - Home Renovation Franchise
Run a business that operates in an untapped market with enormous potential. No experience required.
Watch Video
Territory Information
Location:

Liverpool
Total Investment:

from £20,000
Other Areas Available

Opportunities available throughout the UK and Republic of Ireland.
Profile
The Reason We Exist
Incredibly, it's estimated that around 40% of renovations end in disputes due to escalating budgets and missed deadlines.
This is largely because the renovation market is highly fragmented and disorganised. That's why we provide customers with a single point of contact who carries the brief throughout the design, quote and build processes, reducing complexity and dramatically improving communication.
What Do You Want?
Are you looking for a unique franchise opportunity that requires no industry experience?
Are you interested in running a business that operates in an untapped market with enormous potential?
Would you like a business where the service and solution offered is understood almost immediately by most home owners?
What We Do
Refresh is the first national design-and-build home renovation franchise in the UK. That's important, because being a specialist in renovation projects puts us at a unique advantage. While most builders view renovations as the 'gap-filler' between new-build projects, our teams specialise in renovations.
We love this work and it's all we do.
Key Things to Note
You don't need to be a builder or have building experience
We have a unique franchise setup, designed so franchisees can maximise their management skills to build a valuable business asset
This is a sales and marketing oriented business with world-leading systems and support
Low start-up costs (no up-front premises or fit-out costs), full initial training and well-structured ongoing support, you could be reaping the rewards of joining an industry-leading business in no time at all.
The UK construction industry is comprised of three main sectors:
New home building
Commercial construction
Residential renovations
There is no consolidated business offering a nationwide home renovation service.
Refresh Renovations was the first to deliver these benefits on a national scale, offering homeowners a consistent customer experience using proven systems and processes and taking the guesswork out of choosing a builder.
The Home Renovation Problem
Anyone who's ever undertaken one – or knows someone who has – knows that renovations are exciting, but also extremely stressful. Between finalising plans, managing tradespeople and finding funds, renovating a home is typically one of the most hectic scenarios in the average homeowner's life.
The Refresh Renovations Solution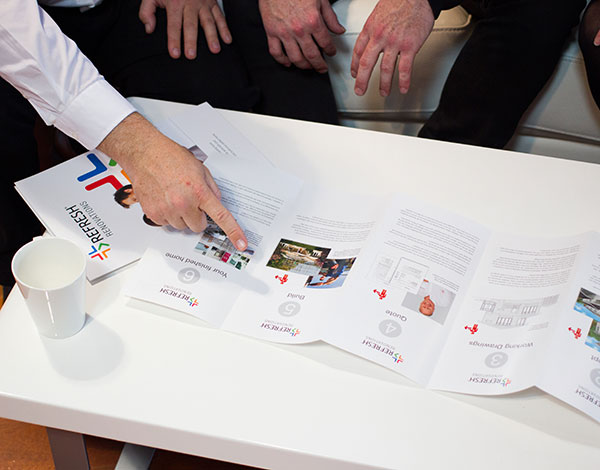 The Refresh process makes home renovations less stressful. Our aim is to ensure residential homeowners get the renovation of their dreams for the best possible value.
Customers around the world trust Refresh Renovations because they know they'll receive a consistently high level of service. Not just once, but every time they want to renovate.
Our business model is the perfect combination of commercial building practices, processes, technology and systems – all with a residential focus. It allows skilled builders and tradespeople to focus on their key strengths and saves homeowners time and money.
Who Are Our Customers?
Our potential customer is anyone considering undertaking a home renovation. From first-time buyers to multiple homeowners, there's no typical Refresh customer. If someone is thinking about renovating but doesn't want the hassle or added cost of project managing the build singlehandedly, Refresh offers a solution.
What We Offer Our Customers
There are a number of ways we deliver excellent value to our customers.
Firstly, we use state of the art processes and systems to keep projects on time and on budget supported by our clear briefing and communication, robust design processes, and streamlined project management
Secondly, with our group buying power on materials and labour, Refresh customers are assured of a top-quality renovation at the best possible cost. Research has shown that the Refresh design-and-build process can save up to 30% on a typical building project!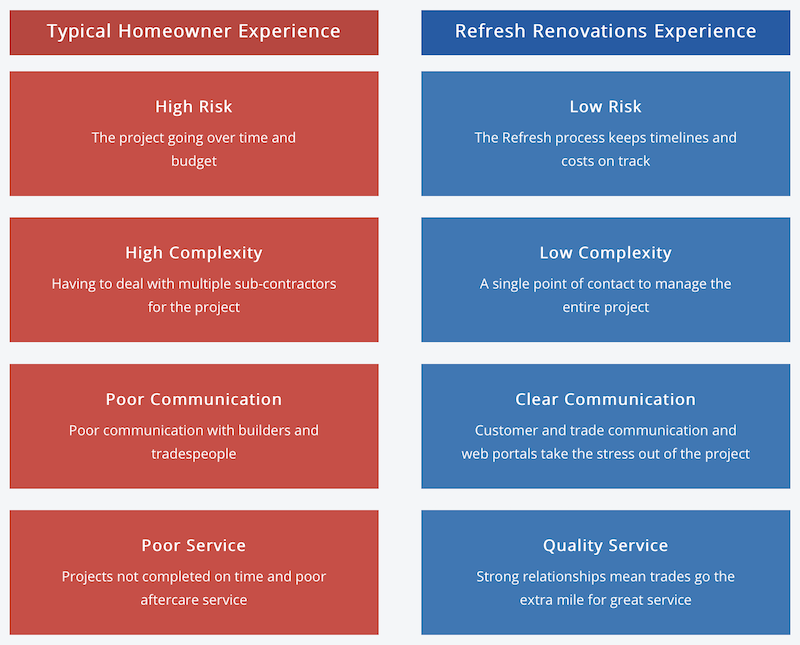 Role of a Refresh Renovations Business Owner
Refresh Renovation consultants ensure that homeowners don't have to navigate the fragmented and confusing renovation industry. Consultants work with clients to discuss their ideas, budget and priorities – then, with their team, they make it happen. The homeowner doesn't have to lift a finger.
Refresh provides a single point of contact to take homeowners through the entire renovation, while the Refresh process ensures cost-effective renovations – from design to completion.
Global Growth
Today, Refresh is the leading global residential renovation business. We currently have over 90 franchisees operating globally. Refresh is the first national design-and-build renovation franchise in UK, so this is a rare opportunity to be part of bringing a proven business model to an untapped market.
Videos
If you're looking to build an asset for your future, a Refresh Renovations Franchise could secure that for you. Anyone seeking an opportunity with Refresh should contact us immediately.
Learn why Kelly chose Refresh.
How Refresh Renovations takes on renovation projects and delivers you your dream home - on time and on budget.