Radfield Home Care Franchise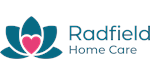 Radfield Home Care - Home Care Franchise
Operating within a rapidly growing sector, Radfield Home Care provides the opportunity for a franchise business with longevity.
Finance requirements

Initial Franchise Fee:

£30,000 + VAT

Working Capital:

£45,000

Areas Available

Throughout the UK
Profile

The Radfield brand has operated for over 35 years within the healthcare sector. Brother and sister franchisors, Dr Hannah MacKechnie and Alex Green, grew up within Radfield Care Home that was operated by their parents. This influence led them both on to compassionate and care focussed futures, with Hannah becoming an experienced GP and Alex an active community ambassador.
Thanks to this wealth of industry experience and knowledge, they launched Radfield Home Care in 2008 and have developed four successful company owned branches and are perfectly positioned to help franchisees support the ageing population with a profitable, rewarding home care franchise. With rapid growth in its first 18 months of franchising, Radfield has also achieved the prestigious B-Corp Certification, recognising it's unique ability to support franchisees.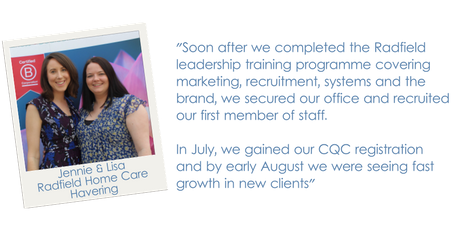 Established in 2008, Radfield Home Care specialises in providing care, support and domestic assistance to older people within the comfort of their own home. With the percentage of over 65s expected to reach 20% of the UK's population by 2020, hospitals are becoming overcrowded and alternative care solutions are in increasing demand. Radfield Home Care helps relieve the strain on these services with a compassionate and quality-led solution.
As a franchisee, you will develop a private client base of people requiring care and assistance in your local community, whilst building a team of healthcare specialists managing the provision and standards of the services delivered. Care will be provided on a one-to-one basis, ranging from a one hour call each day, right through to 24-hour, round-the-clock support; fully adaptable to ensure clients can remain living independently within their own home.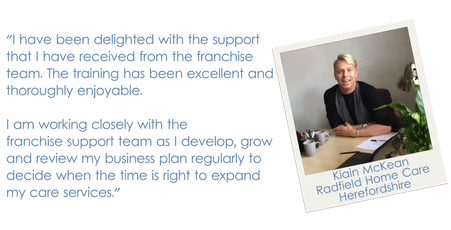 A business opportunity with a safety net...
Developing four company owned Radfield Home Care branches over the last ten years, franchisors Hannah and Alex have already experienced and overcome the trials and tribulations of operating a home care business, thus creating a franchise model that has been tested well beyond the traditional single-office pilot scheme many franchises are based on.
As a result, Radfield Home Care franchisees have the opportunity to not only enhance people's lives in a multi-billion pound industry, but also work alongside experienced franchisors and a professional support team dedicated to helping you develop your franchise into a profitable and rewarding business - all starting with an introductory 10 day franchisee training course.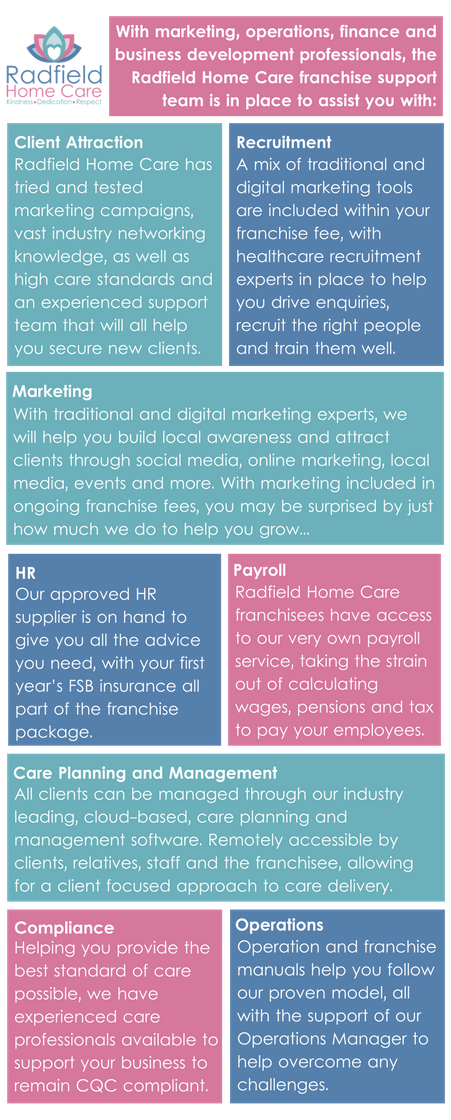 Operating within a rapidly growing sector, Radfield Home Care provides the opportunity for a franchise business with longevity. What's more, thanks to regular training days, networking events and an annual conference, franchisees have the opportunity to help shape and direct the business as the network grows.
Industry-leading systems and procedures…
The successful business model has been proven over ten years, across four company owned branches, allowing all systems and procedures to be fully tried, tested and embedded. These branches also provide an ongoing platform for service research and development, meaning Radfield Home Care operates with some of the most advanced systems.
Using the latest in digital technology, Radfield's industry leading cloud based staff management and care planning software ensure you can operate a profitable and future-proofed business, with client safety at the heart of your operations. Whilst the latest marketing, mapping and visibility systems even make sure your business will appear not just in Google searches, but even in the sat nav in your car; making sure you are easily found and contactable by both staff and the families of those in need of care and support.
All these systems are part of the Radfield Home Care franchise, allowing franchisees to set-up from day one with the benefit of advanced technology that will help them grow and manage their business efficiently and controllably.
An up and coming household name...
With franchises as far north as Liverpool right down to the south coast of England, Radfield Home Care is becoming a household name across the country.
Accolades at the likes of the Thames Gateway Business Awards and Shropshire Partners in Care Awards stand testament to the standard of both the commercial and care opportunities presented by Radfield Home Care.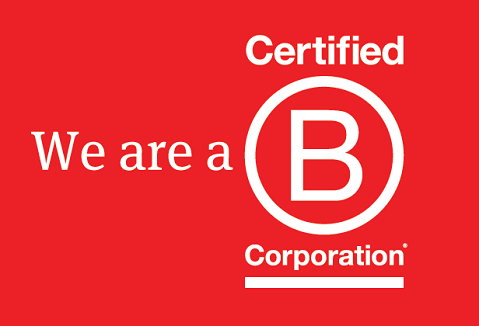 Radfield is also the UK's first, and only, healthcare organisation to achieve B Corp Certification; the rapidly expanding global business equivalent of FairTrade, recognising its commitment to ethical trading and franchisee support. With just over 2000 organisations across the world achieving this environmentally and sustainable certification, Radfield Home Care sits alongside the likes of Ben & Jerry's ice cream and Patagonia clothing.
The franchise package
The Radfield Home Care franchise is designed to help you operate your new business efficiently, profitably and compassionately - whether you have experience in the home care sector or not. Therefore our package is extremely comprehensive: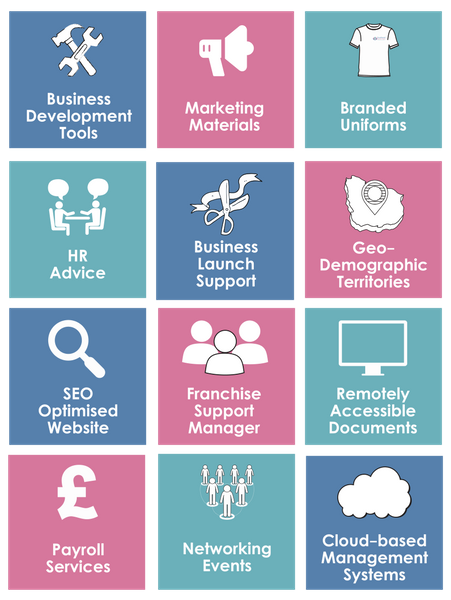 An affordable entry into a multi-billion pound sector
The Radfield Home Care franchise fee is £30,000+VAT, with an additional £45,000 working capital required.
However, we have working relationships with multiple banks, including HSBC that can lend up to 50% of the total investment required, Lloyds Bank and others.
Case Studies
31 January 2018

Franchisee, Kiain McKean is Director of Radfield Home Care Herefordshire & South Shropshire. He has dedicated his working life to the UK care sector for no less than 26 years, starting his career in care at the age of just 16, where he had a part-time job as a home carer, whilst studying at college ...
31 January 2018

Franchisees and cousins, Jennie Bardrick & Lisa Cable opened Radfield Home Care Havering & Brentwood in June 2017 and have already won the prestigious Judge's Award at the Thames Gateway Business Awards 2017.1They recently spoke to us regarding their new venture, and fantastic early success:We have ...