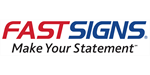 FASTSIGNS - Sign Making Franchise
Thinking about which franchise is right for you? Make your statement with a FASTSIGNS business.
Finance requirements

Areas Available

United Kingdom
Profile

With signs and graphics, you can say anything, do anything and be anything! Become a FASTSIGNS franchisee and discover a proven route to successful business ownership where you can exceed an annual turnover of £1 million.
Multi-award-winning franchise, FASTSIGNS, is seeking new franchisees to join them at the forefront of an industry driven by technology and creativity.
FASTSIGNS is a global leader in the franchised signs and graphics sector. Founded in Texas in 1985, the franchise has helped people like you build successful businesses which complement their lifestyle, skills and career goals. So, why not join our growing, supportive network of 765+ centres in eight countries?
With our training, support, and proven business model, you'll be able to help any business, in any industry, make their statement through signs and graphics. From exterior building signs, signs to direct and inform, signs to decorate, signs to theme an event, or signs to promote, you'll play an important role in helping your customers stand out for all the right reasons.
Great signage is always in demand, so your business will always be in demand, too!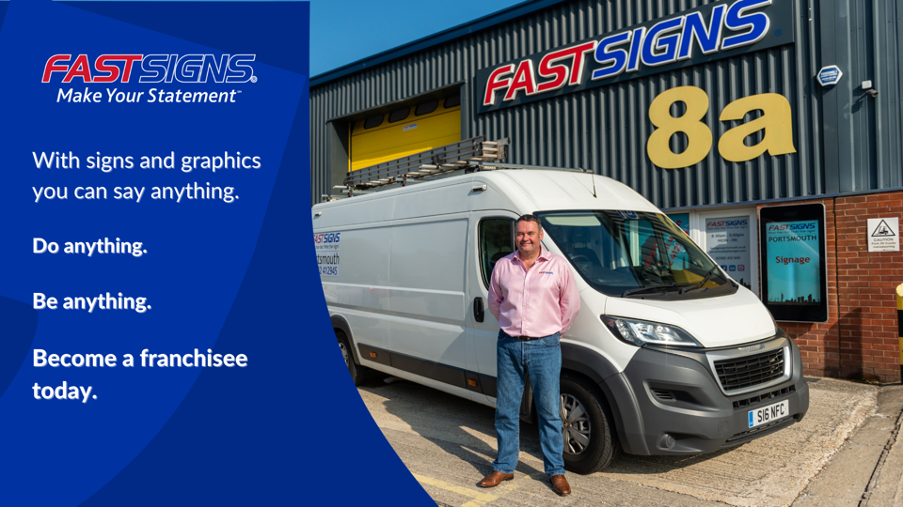 By constantly striving to be at the cutting-edge of signage manufacturing technology, and combining our expertise with powerful business strategies, we can give you everything you need to grow a highly profitable business.
This is your opportunity to be part of one of the world's largest and most successful franchises. FASTSIGNS has won countless international franchise industry awards and, specifically in the UK, we are consistently awarded 5-star satisfaction from our franchise network.
F'see quote: "We love being owners; being in control of our business and working in it, as well on it. The Head Office Support Team helped us move our mindsets from employees to owners, supporting us to achieve our goals. We've grown our business by over 30%, have taken on new team members, and we're extremely excited for the future!" Melanie & Jose Martinez and Alan White
As our partner, you will enjoy:
Comprehensive training from the very best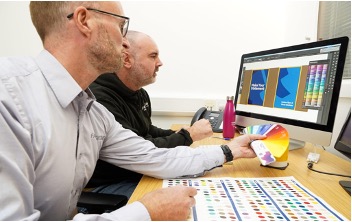 With training from world-leading industry experts, you'll soon find yourself well on the path to becoming a signage expert, growing your business with confidence as soon as you open. Your training programme will include 2 weeks of Foundations Training at our Dallas Head Office, 1 Week in a UK centre with your mentor, 1 Week, Centre-based Business Consultant training visit, pre-launch, and 24/7 access to FASTSIGNS University.
Ongoing Support
With a dedicated, UK-based support team and a US-based Head Office, you can count on advice and guidance in whatever you need, whenever you need it. We will also continue to support and nurture you throughout the lifetime of your franchise with us with a robust programme of ongoing training events, in sales, marketing, substrates and more, annual visits from US-based industry experts, and two annual conference events.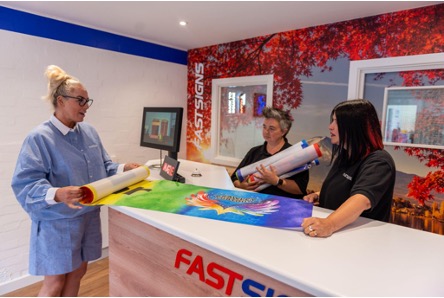 Business Support
You'll be assigned a team of dedicated Business Consultants to work with you, develop your business plan, and help you manage your objectives against it for success. We are also able to help you access HR support, accounting support, technical expertise and anything else you could possibly need to make the most of this opportunity. You'll be in business for yourself, but never by yourself.
Marketing Support
You'll be part of a high-profile, global brand with a reputation as a true market leader. We ensure marketing is always at the centre of what we do by consistently investing in our brand positioning, website, and technology. With consistent 'On Your Behalf' marketing activity and local marketing support, we'll help you ensure your business is as visible as possible and can enjoy excellent ROI.
F'see quote: "We were definitely nervous, as we were both complete sign novices. But we had help at every turn!" Tunde Sodipo, FASTSIGNS Northampton
Are you ready to make your statement?
You don't need any previous signage experience to benefit from a FASTSIGNS franchise. If you are organised, business-minded and able to communicate effectively with your customers, we can give you everything else you need to succeed. As this is predominantly a management franchise opportunity, you will be able to count on our support to build a team with all the skills you need around you.
Get in touch by filling out the enquiry form below.