Bright & Beautiful Franchise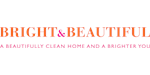 Bright & Beautiful - Domestic Cleaning Franchise
Join the leading housekeeping franchise to grow a scalable business in your area! Earn up to £80,000!
Watch Video
Finance requirements

Minimum Investment:

£9,995

Areas Available

Opportunities are available throughout the UK.
Profile
Start This Profitable Business from Home for as Little as £9,995*!
Have you always wanted to start your own business? Realise your dream and earn up to £80,000!
Founded in 2009, Bright & Beautiful has quickly established itself as the domestic (with commercial opportunities) cleaning franchise opportunity not to be missed. Our core values and reputation for quality, as well as a consistent demand for our premium housekeeping services, have helped us grow to 80+ franchise locations in just a few short years.
With Bright & Beautiful, any determined individual can make the dream of being a business owner a reality! With no long commutes, no office politics and no pointless meetings, the perfect work-life balance can be on the horizon.
Our franchise model is entirely management based which means you will not be doing the cleaning yourself. Your role as a business owner is to manage and motivate your team of professional housekeepers whilst driving the growth with new customers of your business with our proven sales & marketing methods.
Create the working environment you've always wanted… and most importantly, be in control of your work schedule.
We are searching for talented, hard-working individuals to build and direct their team of professional housekeepers and grow a sizeable, scalable business in their local area. Don't worry, you will not be doing any cleaning yourself, but driving growth as the business owner with the support of our dedicated Head Office team. We welcome those with ambition and encourage the drive to grow your business with our expertise to guide you! At last, you can make money for yourself and not someone else, with your attained earnings being respective to the hard work you put in.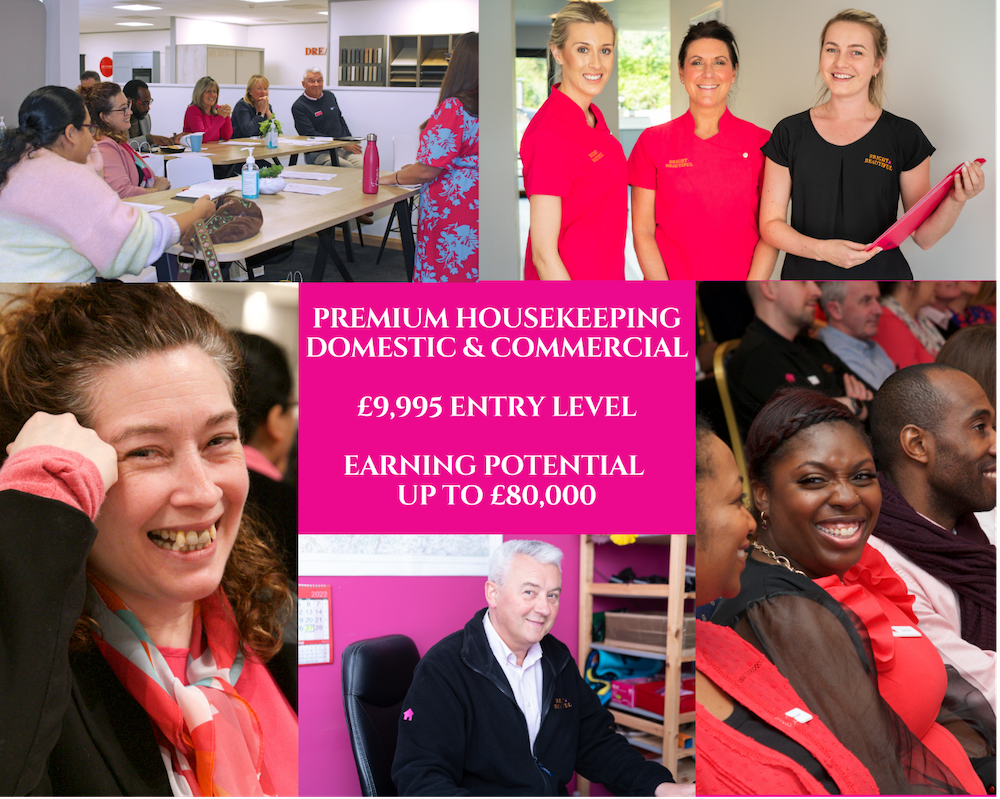 Training
You are the business owner. You set your schedule and you manage your team. But as a Bright & Beautiful franchisee there is one key advantage, you are NOT alone.
Upon joining you will begin our Sure Start programme guided by your dedicated Franchise Development Manager.
This includes pre-launch training tasks, business planning and a 5-day new franchisee training course at the Bright & Beautiful head office.
Our 5-day training allows you to explore all aspects of your new business including the systems, software and best practices that will ensure you launch successfully. Each day is led by one of our expert head office team so you will have met and have access to everyone in the network. We provide you with the support and knowledge base you need to grow and maintain your local operation. Bright & Beautiful offers support and advice in:
Recruitment
Management
Marketing
Sales
Operations
Your Franchise Development Manager is your guide through your launch and development, working alongside you, supporting you and training you on the tools and procedures to make you a success. They conduct regular business review calls and help you set achievable short and long term business goals. From the day you start your business you are never on your own!
We are incredibly digital savvy and ensure your business is supported by a full web-based management system to help manage your client enquiries, recruitment and staff. You will be given access to a comprehensive document library, training videos and the Bright & Beautiful operations manual, to ensure that you are always in the know!
These are available 24/7, all year round!
Our community of franchise owners also offers peer-to-peer support every step of the way sharing their wisdom and experiences.
Daily Life of a Franchisee
A Bright & Beautiful business owner's life is separated into 4 main focuses. These 4 areas cover Clients, Marketing, Recruitment and Looking after the Numbers.
Our goal in supporting any business owner is to ensure that they have a growing portfolio of repeat domestic and commercial clients, as well as one-off, deep clean opportunities. To do this we offer continual support in interpreting our proven business model to connect with our target market through networking, marketing activities and embodying the brand.
Each day looks different, and your schedule can fit your lifestyle!
Whether you spend 2 days out quoting after some successful marketing activity… Or spending time responding to enquiries, business planning and planning your finances, every day is different.