Your Man With A Van Franchise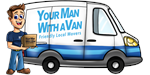 Your Man With A Van - UK Light Removals Van Franchise
This scalable light removals business requires no premises, has low startup costs, and can be fully operational within just 3 months. One can realistically earn over £100k per annum.
Finance requirements

Franchise Fee:

£1000+VAT (Plus a £200+VAT per month management fee)

Minimum Investment:

£1,000

Areas Available

UK
Profile

The UK's Number One Light Removals Specialist.
Would you jump at the chance to ditch your current routine and run a fast-paced exciting business?! Why not escape the norm, leave the 9-5 office grind behind and become your own boss, with a recession-proof, high-growth business!
BENEFITS AT A GLANCE
Take advantage of our proven business model - developed and refined through hard work and experience
Operate with confidence - under an established and respected brand that will bring customers in greater numbers and speed than if you beginning as an independent unknown quantity
A running start from day one - thanks to marketing strategies that mean your business is already a recognised entity in the public sphere.
UNIQUE MARKET COVERAGE
From house removals to single-item relocations, in addition to office clearance and specialist item support, YMWAV has got it covered. Our adaptability to each client and their needs means we have a unique market coverage.
There are not enough removal companies to keep up with the continuously growing demand. YMWAV is filling this niche with our simple but effective light removal service.
In addition, everything we do is executed from start to finish with excellence. Our five-star customer ratings demonstrate we look after our customers' items as though they were our own. Mindful, professional customer service is our guarantee.
JOIN US AND ENJOY...
Best In Class Support: Our two Directors are exceptionally experienced in commercial and residential space with operational, customer and leadership excellence. Dan, our founder, provides over a decade of experience in the light removals industry. As a franchisee, you will work one-to-one with Dan to maximise your business.
Marketing Tools & Support: We work with you to establish your local business presence and train you on our systems and products with proven results.
Full Training Programme: You will receive comprehensive on-site and in-house training to ensure you are fully up to speed and confident operating your exclusive location. Quality of service is paramount, and we will work closely with you to inspire and ensure confidence.
Evergreen Business Operational Procedures: Our business is evergreen since consumers always need to move single and multiple items. It's a market demand that YMWAV will help you exploit by providing the operational procedures to maximise your light removals business.

OUR ORIGIN STORY
YMWAV has its roots in Cambridge, where our founder Dan started it all. Dan's love for music and events led to him buying a van in 2012 to transport his DJ equipment after earning a degree in Music Tech. When friends and fellow students repeatedly asked for help with their moves and deliveries, Dan saw a business opportunity: Your Man With A Van.
Before long, YMWAV had built a loyal customer base in Cambridge. By 2014, Dan moved home to Hertfordshire and grew the business into four branches across Hertfordshire, Dorset, and Hampshire.
FRANCHISEE REQUIREMENTS
We are looking for driven, self-sufficient individuals with a genuine passion for providing a great customer experience and making the most of their business.
Franchisees must agree with our company values. These aren't just tick boxes; they are how we work together. They represent the pillars of our brand:
Best In Class: We are exceptional industry specialists. We never settle for anything less than total professionalism. Every detail matters, and every question is worthwhile.
No Nonsense: We deliver as we say we will. Our prices are transparent and affordable; nothing is hidden. Our customers are our priority. We listen and we act.
Stronger Together: The more of us there are, the stronger the YMWAV brand. We promote collaboration between members. Networking is key to our success.
FINANCIAL INFORMATION
Franchise Fee: £1000+VAT (Plus a £200+VAT per month management fee)
Working Capital: £1,000 (estimated)
Initial Equipment: £1,500 (estimated)