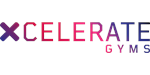 XCELERATE - Fitness Franchise
XCELERATE GYMS is the UK's most exciting new fitness franchise set to take the industry by storm in 2021!
Territory Information
Location:

United Kingdom
Franchise Fee:

£35,000 + VAT
Liquid Capital:

£150,000 + VAT
Profile
XCELERATE GYMS  franchises available now in the UK
XCELERATE GYMS  franchises are now available in the UK. Find out everything you need to know, including the cost to start this franchise in minutes here!
ABOUT THE COMPANY
MADE DIFFERENT. MADE BETTER. MADE FOR EVERYONE.
XCELERATE GYMS is the UK's most exciting new fitness franchise set to take the industry by storm in 2021!
At XCELERATE GYMS, we take a 360-degree view of our members' health, fitness and wellbeing, giving them all the support, tools and advice they need.
How do we do this? By working with the experts – the leaders in their fields – to provide scientifically proven support strategies based on elite sport to empower all our members. 
Our world-leading experts support every member maximise each element of their mind, body and soul, whatever their current fitness levels, to help them achieve their personal best.
WHY CHOOSE XCELERATE GYMS?
INSPIRING HUNDREDS OF THOUSANDS OF MEMBERS – ONE COMMUNITY AT A TIME.
Our vision is for XCELERATE GYMS to be more than a national brand bringing health benefits to our members and profits to our business owners. We aim to become the beating heart of hundreds of local communities, as individuals and families focus on their health, wellbeing and fitness.
WHAT DOES XCELERATE GYMS DO?
OUR COMMITMENT TO YOU, OUR BUSINESS OWNERS.
XCELERATE GYMS  will work with its business owners to place facilities in the centre of towns and cities across the UK. We will create health and fitness 'hubs' that become their local communities' beating heart.
We take the great, collective work from our past, learn from others' mistakes, and provide a 'best in class' product and service. This service level extends beyond our members and is at the core of our B2B strategy. We ensure our business owners are provided with all the support, expertise and tools needed for a swift opening, maximising property agreements and targeting a profitable position from the first day of opening.
BENEFITS
THE POWER OF 4 – OUR TARGETED MARKET




Our broad target market enables a robust business model and fantastic opportunities to upsell with multiple individuals combined in family memberships. Gym Users: New & those upgrading / moving from other gyms.


 
THE 'XCELERATE INTO BUSINESS' 26-WEEK PLAN


We have a clear 26-week commitment to getting you into business within six months of signing your agreement. We will work with you and our hand-picked partners to get the gym open in this time, minimising initial costs and maximising the pre-sale and opportunity that comes with being new.


 
TRANSPARENT COMMISSION STRUCTURE


We take pride in our transparent commission structure. Put simply, "we do not take commissions" (except for fitness equipment), limiting your costs and helping you maximise your investment.


 
XCELERATE'  FUTURE LEADERS' MANAGEMENT PROGRAMME


Our vision is "a culture that gives any employee a path to the Executive Team" with clear pathways for training, development and progression. We will talent spot for every gym and provide a growing group of high-quality individuals aligned to our brand values and ready to become the next-gen. of managers and leaders within the business.
FRANCHISEE REQUIREMENTS
We're looking for people that want to build a successful business with multiple sites and locations across the country. People with a real passion for health and fitness who want their businesses to be hubs in the communities within which they reside.
In a post-COVID world, where everyone is realising the benefits of being fit and healthy, we want our business owners to promote a healthy lifestyle amongst all adults and children actively.