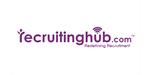 Recruiting Hub - Online Recruitment Marketplace Franchise
Franchises across the UK are ready for you to join us today!
Finance requirements

Franchise Fee:

£5000 + VAT

Minimum Investment:

£15,000

Areas Available

UK
Profile

ABOUT THE COMPANY
'Hassle-Free Online Recruitment.'
Recruiting Hub is an online B2B recruitment marketplace.
It's a safe, dependable, and intelligently connected (using AI & ML algorithm) system for employers and recruiters to quickly fill their vacancies. It cuts out the middleman, so things run smoothly for everyone involved through a single contract.
In other words, it brings safety and efficiency to a necessary part of the world of work.
As the world becomes more connected and globalised, we have seen tremendous growth in our network.
Recruiting Hub has professional recruiters across the UK and beyond in:
India
Germany
France
China
Belgium
Dubai
Singapore
Malaysia
Japan
Australia
Hong Kong
USA
Several countries across Africa.
Contact us today to see how you can start a new chapter in your career with Recruiting Hub!
WHY CHOOSE RECRUITING HUB?
Recruiting Hub is a UK based tech firm that continues to spread its operations across the globe.
With 700+ registered Employers and 2,150 Recruitment Agencies, ours is the Amazon of recruitment agencies. You will become a Franchise Partner offering Sales & Support to our users.
You will have full access to our 2,150 Agencies to supply our clients [Employers] with the staff they need to fill their vacancies.
The best part is once you have connected with a client, everything goes into "auto-pilot" as our AI takes over for you. You don't even have to source CVs!
Whilst you can start as a one-person operation and run things from the comfort of your own home or a small office, there is plenty of scope for you to expand and build up a team. There really are no limits to how far one can go with this opportunity.
The more you succeed, the more you make, as you will enjoy a profit share percentage for every placement you succeed in bringing to the platform:
60% - Recruiting Agency that fills the vacancy
20% - You, the Franchisee
20% - Recruiting Hub
If you find someone to fill the job vacancy, then you receive an 80% cut.
WHAT DOES RECRUITING HUB DO?
What we do is simple. We – and you – sign up new clients to our site and manage their accounts. We also provide communications – email, phone & live chat support – where and when required.
This is a full-time opportunity that comes with organic growth as more Employers register themselves on our website. They are then passed to you, depending on your location and sector experience, of course.
Recruiting Hub has built up a brand as the top connection between recruitment agencies – our vendors – and Employers seeking people to fill vacancies. It's that simple.
We do this with pride in our work's quality and the high speed and top customer service one can only get from Recruiting Hub.
"Thanks to Recruiting Hub, we filled a niche vacancy quickly when we were struggling through jobboards and linkedin. They have a number of great agencies on their platform."
- Annesly, VP Talent Acquisition, Wabco
"We are a Denmark based company and expanding international. Thanks to Recruiting Hub who made our hiring process simple and easy."
- Laisa, Head TA, Danfoss
BENEFITS
We will provide all the tools you need to hit the ground running from day one.
Full training & support supplied.
Login to our Admin, Live Chat support and billing dashboard.
Transfer of both active & inactive existing clients.
Substantial profits on low costs, giving you a great ROI.
Dashboard access to our Admin platform, giving you the ability to manage all the clients' activities signed up by you.
Track revenues and growth of your Franchisee Account.
Enjoy profit shares from clients signed by you for every successful placement.
Potential to earn between Rs.2-50 lakhs/month or (£2,000-£50,000) or ($3,000-$70,000) per month depending on your team strength.
"We have filled a number of vacancies through Recruiting Hub and it is a great online platform for hiring."
- Ganesh, Talent Acquisition, ilink
FRANCHISEE REQUIREMENTS
Excellent communication, selling and account management skills.
Sales, Business Development and Account Management Team.
Recruitment business experience.
Team handling experience.
Having an existing Recruitment Agency business is most preferred.
"We are a German company and was [sic] setting up green field plant in India and thankfully we found Recruiting Hub, it was easy to use and we filled a number of vacancies starting from Junior-shop floor-management.
- Gautam, Head Operations, Weckerle
"Recruitment Hub filled our vacancies faster and it is a no brainer."
- Monica, Head Talent Acquisition, Hexaware