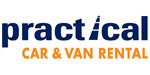 Practical - Car & Van Rental Franchise
Join a nationally recognised brand, with over 150 locations nationwide, and a fleet of over 3000 vehicles
Territory Information
Location:

Inverness
Profile

The Practical Franchise Opportunity
Practical is in a unique position to service the demand for economical vehicle rental across the UK. We have harnessed this demand into a profitable business model based upon our 30 plus years of experience.
Advantages of joining the Practical brand are many. From working with Practical's highly motivated, experienced and passionate team, through to benefitting from the mistakes that we have made in the past, your investment will be in the safest possible hands.
Our size and negotiating skills bring major savings on insurance and vehicle purchasing/leasing amongst other benefits. Our web page was established in 1996 and has a presence on Google that exceeds many of our global competitors.
What comes with the package?
A Nationally recognised brand, with over 150 locations nationwide, and a fleet of over 3000 vehicles.
A five year agreement to trade under Practical, with NO fee payable on renewal
A three day training course for you and two other members of staff
Ongoing support, with an experienced business development manager to assist in the growth of your franchise
A dedicated web page for car and van hire for your territory, with an on line booking facility
Bespoke Rental software, providing you with simple and meaningful management reports
A competitive insurance package, where Practical underwrites the deposits and any minimum premiums
Access to Practical's vehicle purchasing /leasing term; and advice on your initial fleet size and mix
Location signage, uniform, stationery, a business plan and everything required in order to start your rental business

Investment
The initial franchise fee will be between £7000 & £10,000, depending on the size and population of your town or city. Our ongoing system fee is 6% of your rental income. Our creative marketing fee is 2%. This contributes to Practical's well optimised website, as well as Yellow Pages and other advertising, online and nationally.
Dependant on size of your operation, the amount of further capital investment could be reduced if vehicles are leased from Practical. A smaller location, such as an add-on to an existing business, may require as little as £15,000 working capital, whilst free standing sites could require an investment from £70,000.
The Practical Business Model
Practical's business model is straightforward and easy to incorporate into another existing business. Our insurance products, rental software and online booking facilities offer a bespoke rental resource that allows you to concentrate on offering the best service possible, knowing you have the backing of a nationwide brand and a company with over 30 years' experience in this market.
This experience means that you don't need to have any experience of the rental and hire market; you just need the enthusiasm, entrepreneurial spirit and determination to take our systems, along with our support, and turn them into a profitable business.

Who Are We Looking For?
Practical are looking for franchisees who share our determination to succeed and grow and who will be part of the foundation for the future of Practical Car & Van Rental. Selecting the right individuals as franchise partners is a vital element of our long-term success.
You will need to be a dynamic and commercially minded hard worker with a can-do approach to developing your business with managerial and sales experience. We are looking for people with an entrepreneurial spirit yet who also show the capability and desire to operate as a member of the franchise network.
Before you join Practical Car & Van Rental, you will have a full business plan and forecast, known as the budget, which should give you a business plan for the first 24 months trading. The budget takes into account vehicle costs, estimated revenue based on the area and renter profile, salaries, finance costs – in fact, the budget will take nearly all relevant costs, both start up and ongoing, along with insurance and will give you a good idea of the first two years' operating turnover and profits.
We look forward to welcoming you as a Practical Car & Van Rental Franchisee. If you do have any further questions, please don't hesitate to contact us by completing the short form below.