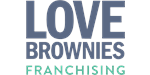 Love Brownies - Coffee Shop Franchise
Love Brownies is a multi-award-winning business with delicious recipes. They are now recruiting for ambitious franchisees.
Territory Information
Birmingham
Franchise Fee:

£50,000
Other Areas Available

Opportunities are available throughout the UK.
Profile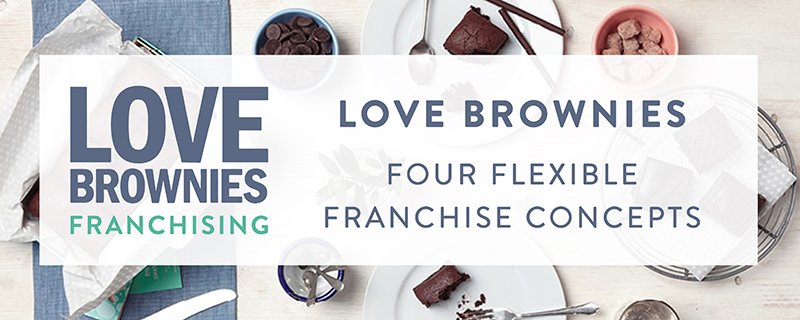 ABOUT LOVE BROWNIES
Established in 2009, Love Brownies is a café & coffee franchise that began in the heart of the Yorkshire Dales where we handmake our rich, tempting brownies that have made us the brand we are today.
Indulgent & spectacular are the watchwords of our business. We aim to entice all palettes by putting our multi-award winning brownies at the centre of every franchise we open.
Love Brownies combines its top-quality products with customer service that aims to put a smile on everyone we serve. Those looking to spoil a special someone, to people just wanting a well-deserved treat - these thoughtful and delicious brownies are simply perfect.
All our brownies are made gluten-free, and we have a delicious line of decadent vegan brownies – a growing market in the UK.
WHY CHOOSE LOVE BROWNIES?
Winner of multiple Great Taste Awards from 2013 – 2019
The UK spends more on chocolate for birthdays and other special occasions than any other European nation.
Love Brownies aims to welcome every customer with a smile and give them not just whatever delicious product they want to buy but deliver an experience that comes with the enticing atmosphere that will make them come back again.
As a part of the Love Brownies team, you get to introduce a modern brand with broad appeal to your franchise area.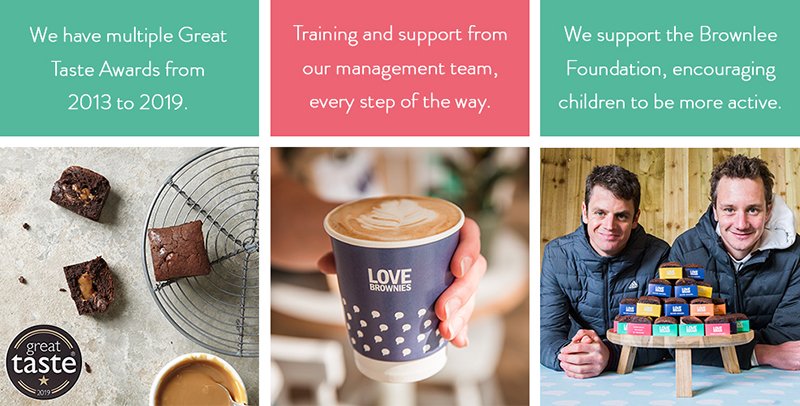 WHAT DOES LOVE BROWNIES DO?
As with any successful business, the concept is simple: We make and sell tasty, top-quality brownies and we offer franchisees four concepts so that they can join our franchise and go into a business that suits them.
Our four concepts are:
The Love Brownies Café
This is, as the name suggests, a fully functional sit-in café. They are open and modern spaces for customers to come in and buy either takeaway or eat-in and relax alone or with friends.
Ideal for: High streets, town streets & squares.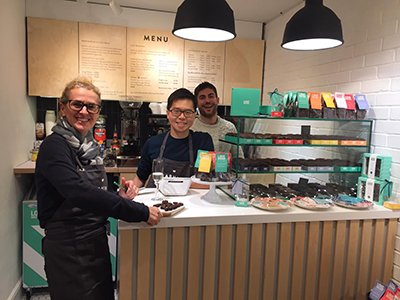 The Love Brownies Grab & Go
The perfect pit-stop for customers seeking a fast, delicious takeaway experience.
Ideal for: High streets, shopping centres, retail/business parks and small-town car parks.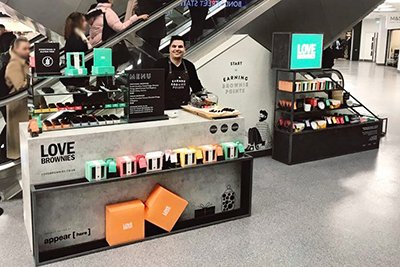 The Love Brownies Kiosk
Kiosks are perfect for customers who want to get something delicious as quickly as possible. Kiosks make the process feel like it isn't keeping people waiting, delivering our products and customer service efficiently and speedily.
Ideal for: High-traffic areas, transport hubs, department stores and university campuses.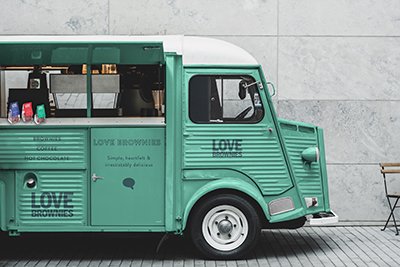 The Love Brownies Day Tourer
The tourer allows you the flexibility of bringing your business to wherever your custom is. One day you can be working at a music festival, then next you are in a food market. You decide where to work and find success!
Ideal for: Festivals, food events and markets.
FRANCHISE BENEFITS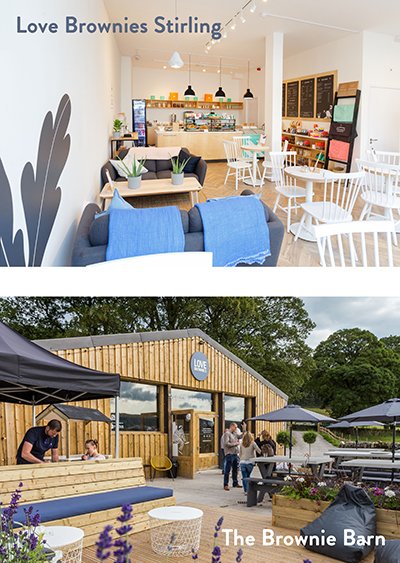 All four franchise options come with:
Fully fitted premises
Opening stock
EPOS system
Full signage
Training and support every step of the way
Franchise operations manual
Marketing support
Exclusive product range
Site procurement
Love Brownies is proud to support the Brownlee Foundation, which aims to encourage kids to be more active.
FINANCIAL INFORMATION
Minimum Investment: £10,000
Franchise Fees: £25,000 [Cafés and Grab & Go], £17,500 [Kiosk and Tourer]
Package Fees: £115,000 [Cafés], £50,000 [Grab & Go], £20,000 [Kiosk], £30,000 [Tourer].
For cafés and Grab & Go, all package fees are dependent on premises, size and condition.