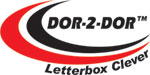 DOR-2-DOR - Leaflet Distribution Franchise
Door-to-door direct marketing franchise. You will distribute flyers and leaflets direct to households according to each clients' needs.
Watch Video
Finance requirements

Total Investment:

£8,000 - £16,000

Areas Available

Franchise opportunities available in England, Scotland and Wales
Profile
Start a Lucrative Leaflet Distribution Management Franchise

LOW COST FRANCHISE – AREAS AVAILABLE FROM ONLY £8,000 + vat
Every home has a Letterbox – Be part of this marketing sensation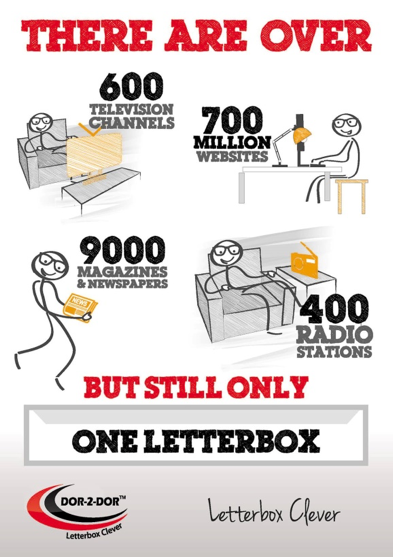 Established in 1987 and offering franchises since 2001, DOR-2-DOR with 70 franchisees operating are the largest network specialising in Leaflet Distribution and printing in the UK. Modern developments, such as websites and other forms of internet marketing, will never offer a challenge to the benefits of being able to reach a targeted market exclusively.
Every home has a Letterbox and according to Direct Marketing Association research (DMA), 93% of householders like getting door drops, vouchers and product samples and research shows leaflets remain in the home for on average 34 days.
Despite the development of the internet and online marketing, Letterbox Marketing is a very important and effective method of local communications and promotion.
The market in the UK is now worth nearly £1billion with 80% of the UK's top advertisers as well as local and national government, using Letterbox Marketing.
What makes this franchise opportunity so outstanding?
The initial launch of each franchise is supported by a local launch programme; this gives the franchisee the opportunity of easily acquiring new clients immediately and giving income potential from the very outset.
DOR-2-DOR has perfected a business model as a result of 30 years of successful trading. Operating a proven and successful business model is what franchising should be all about.
You will be joining an existing team of franchisees who can all be spoken to and who will confirm their own individual successes. Some franchisees have been in place for many years and now generate substantial incomes.
Advertising and promoting your business locally is the key to the success of most franchises. The DOR-2-DOR business model offers you continuous and ongoing free advertising and this benefit alone creates a continually growing client base.
Support for our franchisees is our number one priority. We are pro-active in the development of our systems and training and continually and regularly assisting our franchisees as they build their businesses.
DOR-2-DOR are the leading local leaflet distribution company with a successful 29 year track record and have been offering franchises for over 15 years.
Why develop a local distribution business?
Local businesses know the power of a door drop and 80% of the UK's top advertisers use letterbox marketing. Leaflet distribution is vibrant and growing the market in the UK is worth nearly one billion pounds.
Distributing advertising material on behalf of local organisations offers a recession proof business and will never be replaced by modern developments such as websites and other forms of internet marketing.
With the extensive support of DOR-2-DOR the business is simple to operate and offers remarkable income potential for a comparatively low initial outlay.
Credibility
DOR-2-DOR are full members of the Direct Marketing Association (DMA) and Jeff Frankling, the founder of Zone Marketing, was elected 3 times by members to serve on the Door Drop Council and was chairman of the marketing committee for 4 years during this period. They also support and are full members of the Approved Franchise Association (AFA). The company is also registered with Ofcom – the governments communication watchdog.
Track record
The DOR-2-DOR franchise offers the great benefit of having been operating for many years, and 50% of the anticipated network is now in place. Existing franchisees can be identified on the company website and during your due diligence you can speak to some, or all of them to ensure this is the business for you.. There are also numerous videos on the website where franchisees will identify what levels of success they have achieved.
Despite the fact that this would be classed as a low cost franchise, the income potential is very significant. Many of the existing franchisees are achieving revenue streams well into six figures and healthy profit margins producing enviable net income. The website also contains more than one hundred client recommendations, many from well-known organisations, charities and public organisations.
Three opportunities in One
| | | |
| --- | --- | --- |
| | | |
| DOR-2-DOR Leaflet Distribution - a strong network of franchisees working together with a common aim. | A franchisee will offer a full printing and design service (available from Head Office) and generate a significant extra income from leaflets and many other printed products. | The Dor-Dropz co-operative mailer is a unique product giving additional potential as the distribution service becomes established. |
70 Franchisees and counting – Here are some thoughts from just 3
Ryan Moon - Swindon

I started my franchise in July 2014. I love the flexibility in the business in that you have so many things to offer the client including design and print and delivery or the cooperative mailer and you can make money from all these things. It's a very lively network of franchisees and I would certainly recommend it to anyone considering a franchise..

Peirre Molyneux - Cheltenham

You build up your very own customer base in the area in which you live, so you are very much in control of your own business. Owning a DOR-2-DOR franchise is a fantastic opportunity and I would highly recommend it to anyone who i is looking for a local business to run. I am more than happy to speak to anyone who would like to contact me.

Hayley Widlake - Swansea

What I like about the business is that we are marketing consultants helping and advising local businesses. Talking about the content of their leaflets, what they are trying to achieve. The business is accelerated by being part of the network and without Jeff Frankling's help and knowledge we would have suffered a lot of pitfalls.
Videos
nfluenced by an American co-operative system of delivery Jeff Frankling founded the professional leaflet distribution and printing company DOR-2-DOR in 1987. From the very outset it was clear to him 'that DOR-2-DOR could be built into a franchise system' suitable for expansion. FranchiseSales spoke ...