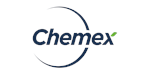 Chemex - Cleaning Products Franchise
Build a thriving business with one of the UK's leading manufacturers and supplier of innovative cleaning and hygiene control systems.
Watch Video
Finance requirements

Minimum Investment:

£9,995

Areas Available

There are vacant areas available around the country. Plus a few resale areas.
Profile
Be part of an industry-leading and award-winning franchise, achieving a turnover of £300,000 in one year!
With a 35-year history in franchising, Chemex has the solution to support your desired lifestyle, earnings and business aspirations. We are a well-established and award-winning franchise operating across 73 territories in the UK and 6 locations internationally but more importantly with a desire to continue that growth.
We are fully accredited members of the British Franchise Association and have developed a time proven business model that has won British Franchise Association Franchisor of The Year twice.
As one of UK's leading manufacturers and suppliers of innovative cleaning and hygiene control systems, we are the experts at what we do, supplying market-leading, multipurpose and highly concentrated products. We offer a unique and unmatched service, separating our franchisees from the competition in a growing £7 billion market. 
What does being a Chemex Franchisee look like?
From an investment of £23,500, you can achieve a turnover of £300,000 through a single van operation with a royalty level of just 6% - that's one of the lowest in the business! With a multiple van operation, you can achieve even more. Your business growth is up to you.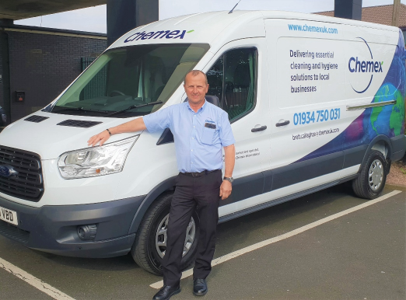 By creating a repeat order business to business franchise, you can generate your required income from as few as 40 customer but much more importantly we keep our customers for far longer than the industry average by providing the Chemex service and our industry leading range of environmentally friendly products. Operating through a low-cost van based structure our franchise base supplies market-leading products at value for money prices.
With a large and exclusive territory you can build a business where you protect the reputation of your customers and in doing so create your own reputation for service and excellence which in years to come will provide referrals and further business opportunity.
You don't have to be an expert. Our successful franchisees have come from all backgrounds including farming, mining and hotel management with some having enjoyed 20 years of more in the business.
How we do it

Along with our multipurpose and super concentrated products that achieve exceptional cleaning results at value for money prices, we provide our customers with a unique and unmatched local service from our network of franchisees, backed up with the reassurance of national support.
Why Chemex?
Our products will always be in demand! Based on the simple fact that all businesses are driven by legislation and reputation to use cleaning, hygiene or infection control products throughout the year we know that our marketplace will still be here in another 35 years.
Unlike other van-based operations, your customers are your own. There are no 24-hour callouts, no minimum product orders and no forced supply to national accounts at poor margins.
You are in control of your daily and weekly schedule but much more importantly you control which customers you want to deal with. You run all aspects of your business and through your own personality deploy the Chemex service with people who want to deal with you.
As a Chemex Franchise owner, you will get industry leading training and support which includes:
Sales & marketing support - through our marketing and sales expertise we hand hold our partners through the crucial early months of business development.
Technical support - supported by our experts in chemistry and microbiology we provide technical back up and support.
Business critical equipment – this includes a tablet, PC, software, tools and uniform
Financial guidance – we'll help you find a suitable finance. Working with our partner we have access to specialist franchise finance agreements.
Field-based support - to help you acquire new customers and identify new opportunities
Expert training that includes hands on, interactive sessions - we understand that one style of learning does not suit everyone and that's why we have invested time in tailoring our training programme to ensure that we help you build the knowledge you need quickly.
What our franchisees say
Here Stephen Crinks, an existing Chemex franchisee explains what it's like to run a Chemex franchise:
"When buying a Chemex Franchise you are taking up an opportunity to grow a business based upon your own self-employed efforts but with the additional benefit of the support provided by a well-established Franchisor as well as that of the existing Franchise network.
Chemex products are not luxury items but necessities, needing to be replenished on a regular basis. Everyone needs what we sell in order to keep their own businesses running successfully but unlike the majority of our competitors we provide a unique level of service and support. Ongoing, the Chemex Franchisor provides training and support across the network in varying degrees based upon individual Franchisee needs to help you grow a successful and profitable business.
Running a Chemex Franchised business is hard work, always challenging, but immensely rewarding. No two days are ever the same. You have the satisfaction of helping your customers run their own businesses to the highest standard, being compliant with ever changing legislation as well as getting to know them and their needs and establishing working relationships that last for many years.
Franchising has been good to us and we would recommend it to anybody. We could not have achieved what we have as an independent business and a nice bonus is that many of our customers are now good friends too."
Next Steps
If you think that Chemex would be the right route for you, simply fill out the contact form and we will send you a Franchise information pack. We then arrange for a one to one telephone chat followed by an invite for you to find out more at one of our Discovery days held at our Head Office in Oldbury near Birmingham.
Case Studies
Stephen and Margaret Crinks were convinced that the only way they could build a better life for themselves was by running their own business. Stephen Crinks and his wife Margaret from Berkshire decided to buy into their Chemex cleaning, hygiene and infection control franchise - "We spent the ...
Videos
Stephen Crinks from Berkshire talks about his reasons for buying a Chemex franchise and the business he has developed in partnership with his wife Margaret.