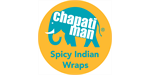 Chapati Man - Indian Wraps On-The-Go Franchise
We are proud to offer a fantastic franchise opportunity that brings our award winning spicy Indian wraps to the UK, Europe and worldwide.
Finance requirements

Total Investment:

from £12,000

Minimum Investment:

£12,000

Areas Available

UK (including London), Europe and worldwide
Profile
Award Winning Chapati Man Food Franchise For Sale
For areas within London and the UK
With their award winning Spicy Indian wraps, Chapati Man is bringing their successful street food franchise to London and the rest of the UK. This is a fantastic opportunity for a buyer who appreciates the concept of tasty, hot freshly prepared 'festival style' wraps.
Chapati Man was created by husband and wife team Chris and Andrea Rai back in 2007. The idea came from Chris taking left-over curry in a wrap to work, which soon evolved into the Chapati Man concept. Our journey started by selling Spicy Indian Wraps at major UK music festivals and events.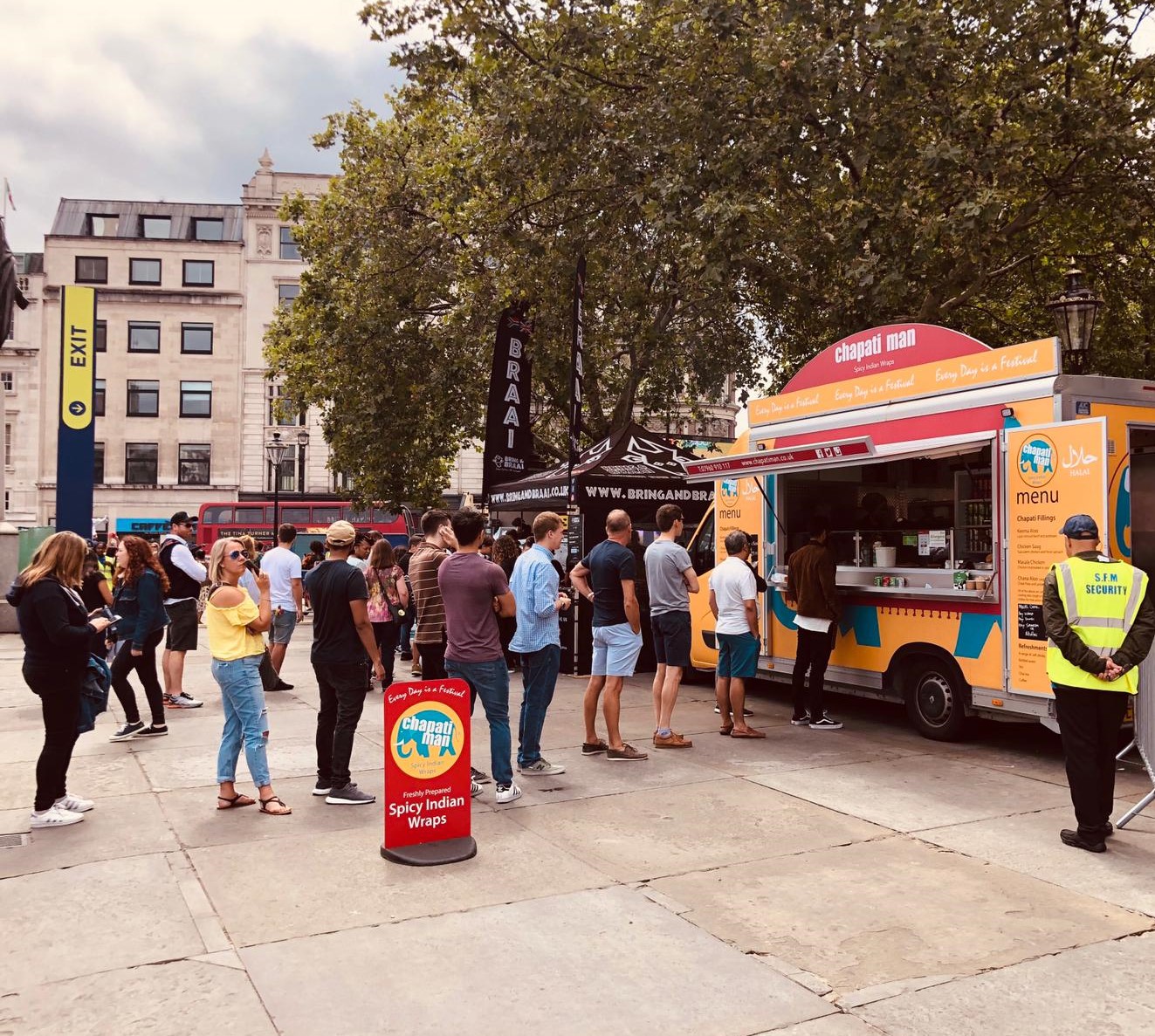 From UK music festivals to the London street food scene, the brand successfully found its way onto the chiller shelves of Morrisons and Waitrose. Most recently, and a testament to its continued success and growth potential the business has sold the Chapati Man Master Franchise Rights for New York and Sri Lanka.
Our vision was always to change the way we eat Indian food in the UK from a sit-down meal to tasty, hot and easy-to-handle fresh food on the go or at your desk and we feel that Chapati Man has achieved this. After twelve consistently successful years, we now see a natural transition from a single trailer to a 'herd' of franchised Chapati Man trucks, fixed kiosks/shops and ghost/dark kitchens.
We're the first UK street food franchise in the UK! We're also the first Indian Street Food brand to break into major supermarkets nationwide – another huge achievement separating us from our competitors.
Chapati Man was voted No.1 food caterer at Glastonbury Festival 2007 by Virtual Festivals.com (our first year of trading). Recently, we were voted in the top three 'Essential Eats' of Glastonbury 2017 and 2019. Chapati Man won the National category at the British Sandwich Designer of the Year Finals 2011.
Our franchise model benefits from these priorities:
We wanted to make our business easier to enter.
We wanted to attract the great operators that we knew would succeed at our business.
We wanted those who were considering the future to choose us first.
We have affordable and flexible ways to enter our brand:
Single Unit operator (fixed, mobile or ghost/dark kitchen) £12K franchise fee.
Three Unit operator (fixed, mobile or ghost/dark kitchen) £25K franchise fee.
We will finance 50% for 15 months.
Why Chapati Man?
Single Unit operator (fixed, mobile or ghost/dark kitchen) £12K franchise fee.
Our quality wrap range. Chapati Man is all about quality ingredients and an authentic Indian taste. We have a small but targeted menu of well-tested favourite fillings, which means great taste every time.
Brand exposure. Customer footfall at festivals and events over the past 13 years is over 5 million.
Our locations. Our mobile food trailer allows us to operate in different profitable, high-profile locations which optimizes customer convenience, rather than the other way around.
Our service. We love serving our customers and can say with some certainty that they love our great food and service because they regularly come back for more.
The Chapati Man brand resonates with a broad spectrum of consumers but especially young adults who tend to be driven by convenience and strong branding – a perfect fit for the food-to-go consumer.
Chapati Man has been heavily involved in the London street food scene for the past five years – from the onset of the London street food and has built a reputation as a highly respected street food caterer.
Benefits:
Incredible product
Effective Branding
Food Segment with no organised competition
Proven profitable business model
Low cost of entry
Strong demand for Indian food
High quality Indian food on-the-go, which is easy to sell and consume
Flexible prototype fits almost anywhere:
Mobile Food Truck
Kiosk
Food Court
Fixed High Street
Ghost Kitchen
University / Schools
Office building
Training:
• We will provide pre-opening support, initial franchise training and post-opening support via on-site training and on-line media. • Advice and guidance on site selection for fixed sites • Ongoing product development • Guidance on establishing street food pitches and high-profile locations • Guidance on attending festivals and corporate events
The time is now! Complete the form below to request a free information pack. We look forward to hearing from you.
Reasons for selling:
Selling single and multi-unit franchise operations within London and the rest of the UK.
Asking Price: £12K - £25K