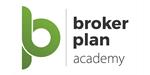 Brokerplan - Loan Advisor Franchise
Become a Financial Services professional with access to over 300 lenders providing commercial, residential and many other types of finance.
Watch Video
Territory Information
Location:

London
Franchise Fee:

£15,995
Other Areas Available

Throughout the UK
Profile
The
BROKERPLAN ACADEMY

is your road to success in the financial sector.
About The Company
The Brokerplan Academy is the fantastic and compelling opportunity for ambitious professionals looking to generate significant income from the Financial Services Industry.
Established in 2004, our experienced team brings decades of collective experience from across the sector, providing all the tools one needs to succeed. With our ongoing support and superb range of broker packages, there is an option for everyone from the novice to the expert.
The UK financial environment has undergone seismic changes over the last decade. Brokerplan, however, has survived and thrived, developing an extensive base of strategic lender partnerships.
Financial services are a major revenue generator, but they take effort and will to take off and spin graft into gold. The Brokerplan Academy is the perfect business model to help you with this, making your dream a reality.
Why Choose BROKERPLAN ACADEMY?
We have built up an impressive directory of over 300 UK-based lending partners. We are proud to offer a wide range of financial services and products, covering all commercial and personal finance areas.
You can do what so many people around the world dream of doing: make your way in the world through our tried-and-tested approach to the financial sector and becoming your own boss.
We have the knowledge, the skills and the years of experience. All you need is the drive to succeed.
Working with the Brokerplan Academy as a financial services advisor, your income will be commission-based. You will collect a broker fee from your clients for your services and a procuration fee from lenders once a deal has been completed.
Typically, after completing your training, we would expect a first-year income projection estimated at £25K to £60K, moving up to £75K+ in the second year and, after that, a genuine six-figure income potential. You can also add this opportunity to your existing business to provide an additional income stream.
We have network partners who own and manage similar enterprises, such as accountancies, estate agencies and logistics businesses, as well as those who handle more varied business, including teaching, IT consultancy, and a wedding business, all while successfully running their brokerage and generating substantial revenue from both.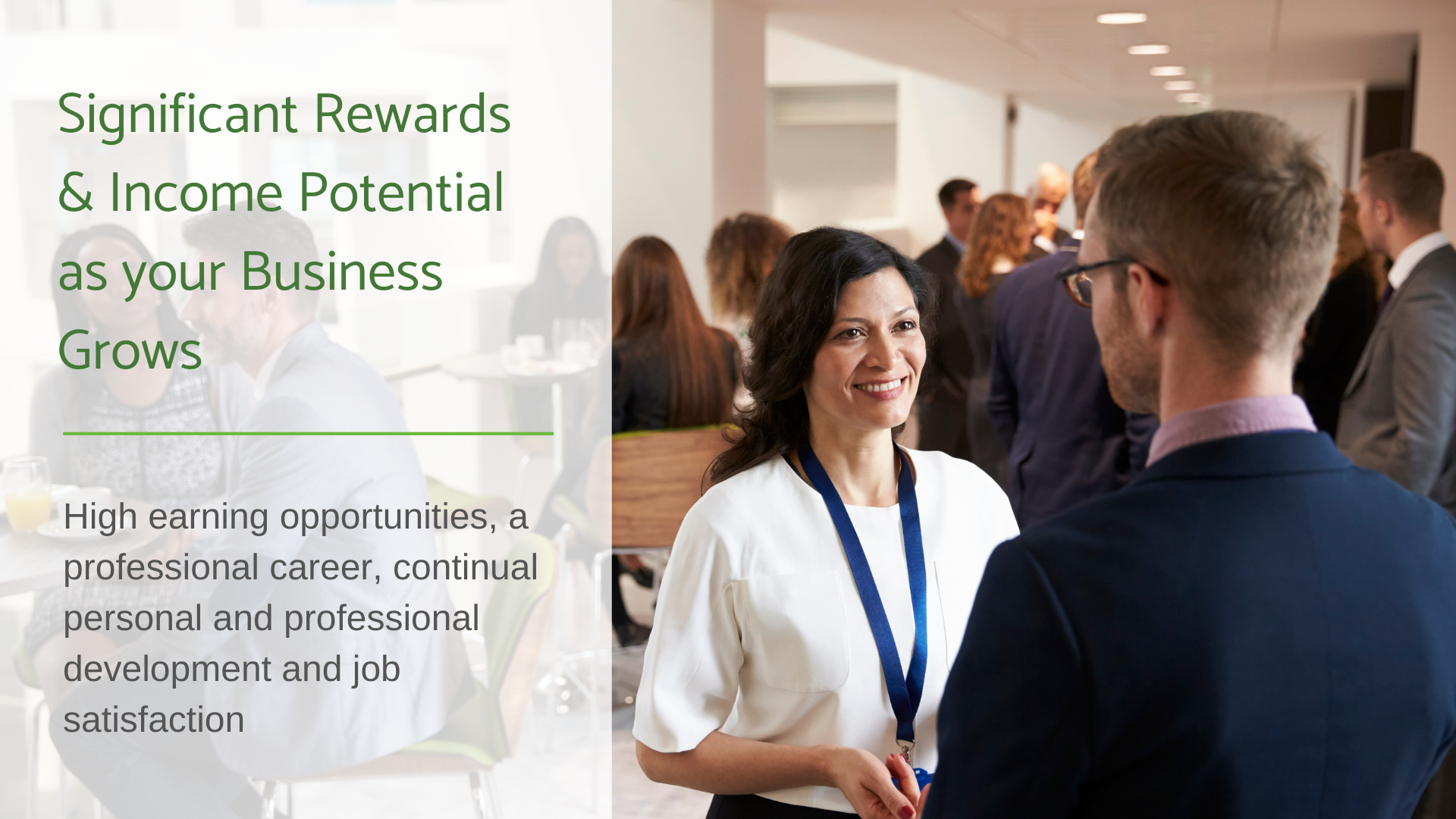 What Does BROKERPLAN ACADEMY Do?
The Brokerplan Academy provides multiple opportunities for launching new businesses. Having already helped 200+ entrepreneurs, we are continuously adding new business tools to make it as easy as possible for you to follow in their footsteps. Original ideas and best practices are shared by all in the Academy so that you can adjust your approach to each client no matter their circumstances. You will end up with a wealth of leads and a client base to provide you with repeat business and refer you to new clients.
Although the Academy propositions have similarities – mainly relating to financial services – there are differences in, for example, routes to market, regulatory implications, etc. Whatever your choice, you will get all the training, foundations, access to systems and support required to establish your business and generate revenue swiftly.
Launching a financial services business involves multiple hurdles (including some regulatory), which the Brokerplan Academy, an established principal firm, can assist in overcoming. These hurdles may include:
Authorisations
Lender/Provider relationships
Solution sourcing (systems)
Deal structuring
Advice process & administration
Deal processing
Branding & online presence
Continuous Professional Development (CPD)
Business launch & ongoing training
The Academy has fully established relationships, systems, and templates to smooth the process to allow partners to start trading within a mere matter of weeks.
In addition to any initial launch training, the Academy has developed a roadmap for each network option. This provides direction and highlights milestones and targets to aim for and achieve during the challenging first twelve months of trading.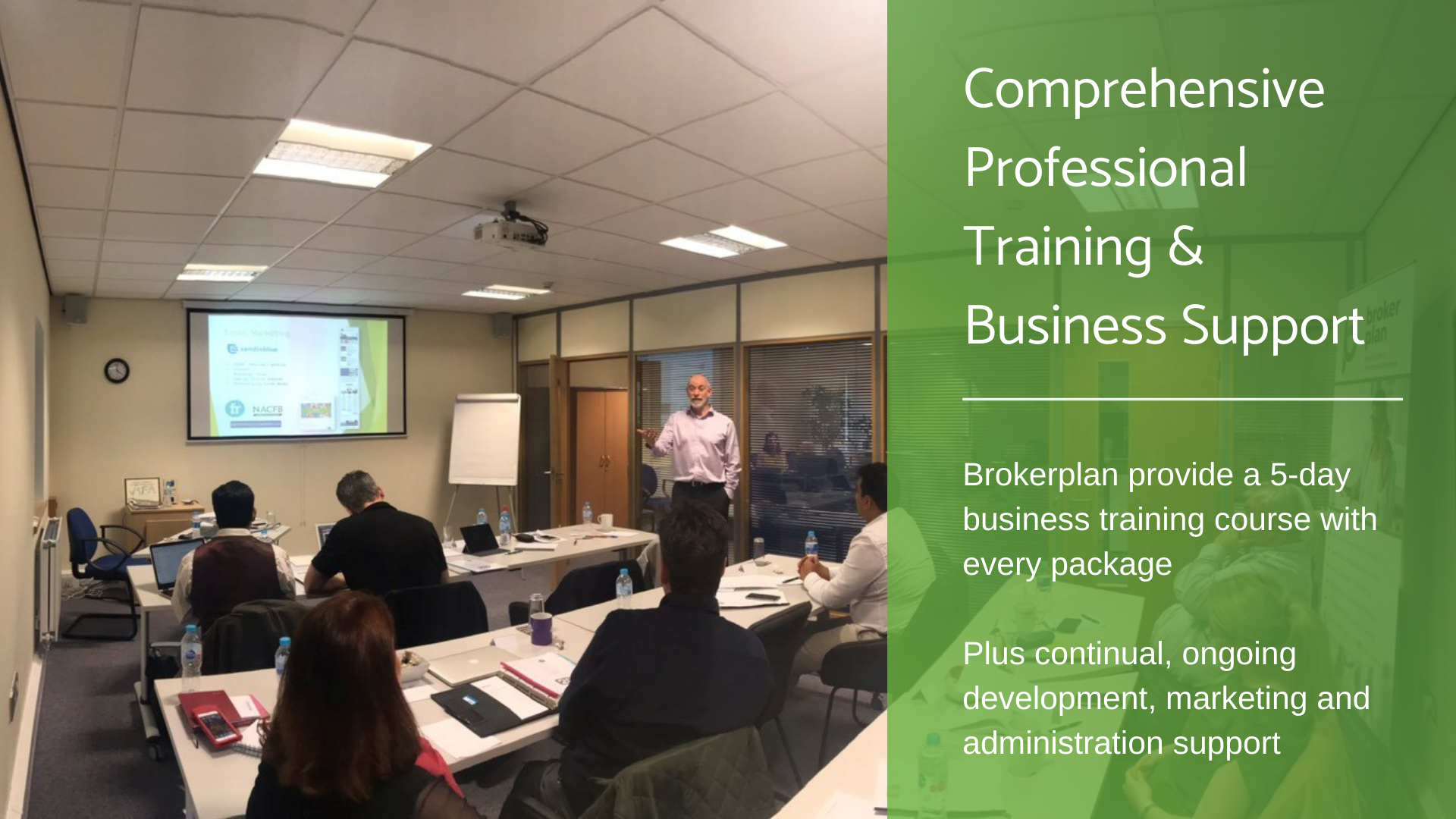 Benefits
Earning potential: You will have an uncapped earning potential with a fast-track entry into the lucrative financial services industry.
Marketing & Lead Generation: As with any business, communicating effective marketing to attract clients and collaborative partnerships is vital. The most appropriate media and methods will vary depending on the product and sector.
Training, Guidance & Support Partners:

A business launch programme
Ongoing regular webinars
Live Q&A sessions
Access to tools to ensure CPD
Technical training from lenders and service providers.

In addition to formal training, we provide ongoing guidance and support. This includes templated documents such as business plans, mentoring and deal shadowing, role plays, social media guidance and support, sales training, general business development support and compliance.
Business tools: These include a website, an advisor page, CRM system, marketing collaterals, proprietary sourcing system, online modular training programme, company intranet and an electronic operations manual.
Partnership: The most valuable resource available to you are the members of the Brokerplan Academy team. All engagements with our business development team, our marketing, compliance & admin team, and of course, our relationship team are given the utmost attention. We work with all the Academy members in partnership. If you are successful, so are we.
Network Partner Authorisations: The Brokerplan Network applies on behalf of ARs for their Firm Reference Number (FRN), allowing the AR to enter the market under the (regulated) supervision of the Principal Firm.
The AR can operate under its own brand. The Business Partner is the standard option chosen by new network partners to engage in this way. RIs are permitted by the Principal Firm to operate under its FCA authorisation (630772) and to face the market as an Associate Financial Consultant (AFC) under one of the company brands, e.g., Acumen Finance or Your Mortgage Plus. The Academy can assist network partners who wish to apply for direct authorisation. The Business Owner package includes guidance on the application process and additional training in sourcing funding solutions and deal packaging and lender management. As the process can take much longer (three-nine months), interim AR status is offered to allow trading within the usual three–six-week period.
Franchisee Requirements
Our top-quality support and range of Finance Broker packages provide an option for everyone. We welcome all applicants from any business background without the need for prior experience or qualifications in the finance sector.
Brokerplan instead is seeking enthusiastic, driven individuals who want to build their own sustainable business.
With years of industry experience, Brokerplan Academy provides everything you need to succeed. It begins with a discovery session, where the team describes the benefits of Brokerplan, the remarkable earning potential, and each package in detail. Should you proceed, we register you with the FCA and provide the training and support required for you to establish your business. We then provide you with access to regular training and CPD seminars which help develop your career and network with numerous other brokers.
Testimonials
"Many thanks for the very informative and in-depth sessions on product areas delivered by the specialists from the Brokerplan team. I gained a good insight through looking into the case studies to give a real feel for the types of deals being worked on within the market today."
- Kirren B
"I am fortunate to have a background in commercial finance with a high street bank, but the training opened my eyes to the wealth of alternative lenders in the market and their flexibility in providing funding. The sessions on regulatory requirements, marketing, fee income and internal Brokerplan systems were invaluable."
- Chris H
"The Brokerplan training has been such a fantastic and pleasant experience from start to finish, I really enjoyed it. The trainers conducted the 3-day course in a professional and easy to understand way from start to finish, providing us with the most valuable information and tools to get started in the commercial broking business with some brilliant tips thrown in."
- Özgen H
"The Brokerplan introductory training is an excellent way of getting a comprehensive overview of the commercial finance consultant role and products available to utilise… It is also great way of meeting the key individuals within the Brokerplan team, who are all very supportive and keen to show that everyone will work together to achieve success."
- Richard S
"Thank you and the team for a very informative and professional introduction to Brokerplan. We thoroughly enjoyed the two days and left feeling enthused and motivated to begin our new business."
- Mark & Joy D
"Brokerplan provided excellent training, coming from a non-financial background, I was anxious… I have come away with vast knowledge and confidence, with peace of mind having the Brokerplan team in support."
- Monty S
"An energising 2-day training to get Business Partners up to speed on the Commercial Finance opportunity, marketing techniques, sales approach and product knowledge. It was a pleasure."
- Ajmer B
"I would like to take this opportunity to thank all of the Brokerplan team for a very informative and professional couple of days training… Even though I have some experience in the sector I have learned so much. It was fantastic."
- Tony F
"[A] really excellent two days, you are all an incredibly enthusiastic and knowledgeable team… I shall be more than pleased to work with you all knowing your expertise is of the highest order and that my clients will be given the best possible treatment and advice as will I and I shall have no need to worry if and when you need to talk and deal directly with them."
- John B
"I would like to send a big thank you to you and your team for the wonderful training and warm entertaining and hospitality arrangement for us… I am proud to be a team member of Brokerplan."
- Shafin K
Financial Information
Franchise Fee: £15,995
Minimum Investment: £9,000
Minimum Liquid Capital: £15,995
Videos
If you join Brokerplan Academy, how could it change your life? What new opportunities would you have?
In this short video, BDM for Brokerplan Marcus Foster takes you on a tour of Lender Hub, our state-of-the-art lender sourcing system, breaking down how it works, the functionality of the platform and how you would go about using it to match your clients up with the perfect lender to suit their ...
In this short clip of a Q&A with Stuart Cruickshank of Lochend Finance, Stuart talks around the biggest learning curves for him as he made the move from banker to broker, and how he came across hurdles where he didn't always expect them.