The Mr. Electric franchise company has just seen one of its franchisees expand their successful electrical business by making their territory the first to have a dedicated Mr Electric Energy Saving Centre. The centre will provide advice and services to local people and businesses who can make significant savings by becoming more energy efficient.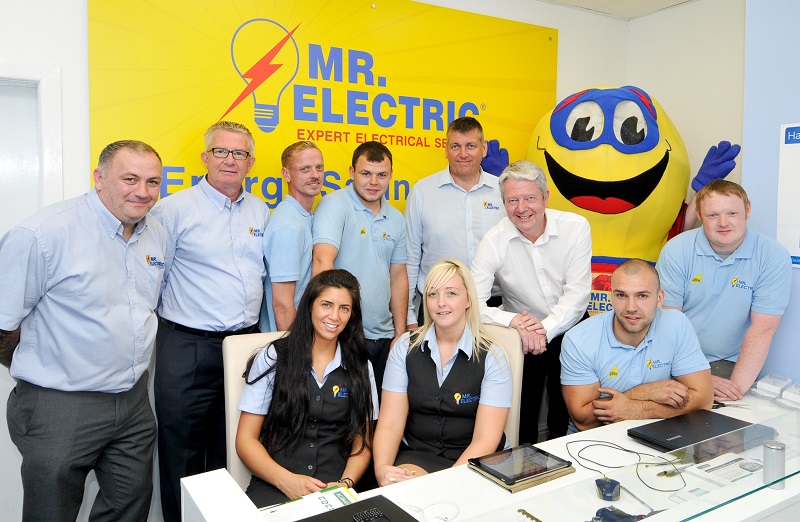 Neville Yates owns Mr Electric in Burnley, Lancashire and is the driving force behind the new initiative which opened its doors to the public with a launch event where the team were joined by their local MP Gordon Birtwistle.
The Centre is a one-stop shop to help people with innovative new products and services such as smart meters, smart thermostats, LED lighting, insulation and much more.  MP Gordon Birtwistle was seriously impressed with the new centre and was particularly interested in the display of LED lighting which demonstrated their effectiveness, using up to 75% less energy than conventional bulbs and showing the real savings which can be made.
Commenting on the Centre's opening, Neville said, "Our business, Mr Electric is well known in the area as we look after many residential and commercial clients. We identified that many people know they could be making energy savings but aren't sure how or where to go, so as an extension to our existing business we are delighted to be bringing the Mr Electric Energy Saving Centre to Burnley. For me it's a no-brainer. People can pop along, get some expert advice and save themselves significant amounts of money – what's not to like?"
He continued, "Bills are going up and up and there is no sign of them going down in the future and this poses a real strain on family budgets. The average household can waste up to 50% of its energy consumption so everything we can do to help will be a saving. It was fantastic to see so many local people who came to see us to take a look at what's on offer and joined in the fun of the opening.  Our Mr Electric mascot, Mr Sparky was a huge success as he took to the streets meeting and greeting while people took Sparky selfies!"