Franchisee Andy Darby is hitting all targets as his ChipsAway business continues to expand. From launching a 'man and a van' operation on a single territory eleven years ago, former soldier Andy has built up an impressive multi-vehicle operation and a team of employees  to serve his three territories. Last year, Andy opened a ChipsAway CarCare Centre (fixed base workshop) in a busy location, and as a result, he has benefited from higher visibility for the brand amongst local motorists and substantially increased his existing customer base from additional passing trade.
Andy's is a real success story. When he left The Royal Engineers in 2000, he was looking for a practical, hands-on business with high earnings potential and a long term opportunity to grow. Thanks to ChipsAway, Andy has achieved his ambitions, he has a great lifestyle, drives a sports car and estimates his 'take home' earnings are around three times more than his salary would have been had he stayed in the Army.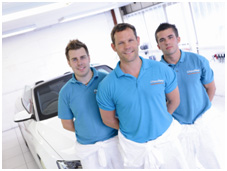 "Opening a ChipsAway CarCare Centre represented a substantial investment for me, but based on my experience over ten years as a franchisee, I knew I could count on absolute support from ChipsAway and I was confident that there was plenty of opportunity to secure new customers and grow," he says. "Once I had identified the right premises, I made sure that in converting to a ChipsAway CarCare Centre, I created an almost clinical, high tech environment, reflecting the quality and professionalism of the ChipsAway brand – after all, we're not some back street paint shop, but a nationally recognised and trusted company providing market leading repair technology!"
ChipsAway is the UK's leading automotive paintwork repair franchise with around 350 specialists in operation nationwide, as well as a network of Master Franchisors overseas.
Based on unique technology, the ChipsAway system continues to dominate in the 'on-the-spot' repairs sector; it removes scratches, bumps and scuffs to car paintwork on a same day basis, and at a fraction of the price of traditional body shop repair methods. With over 34 million vehicles on the road and up to 17 million minor damage repair opportunities every year, ChipsAway estimates that currently it serves only 3% of its potential £2bn marketplace.
Franchisees initially operate from professionally liveried ChipsAway vehicles, customised into fully equipped mobile workshops, and have opportunity to expand rapidly into a multi-van operation or CarCare Centre.
"A year on from launching my ChipsAway CarCare Centre, I'm really happy with the way my business has developed," Andy confirms.  "Now I can process many more vehicles during the day and undertake larger repairs, so turnover has jumped substantially. Of course, I have more overheads too, but the underlying trend is certainly onwards and upwards!"
For Andy, it was important to maintain the mobile ChipsAway service too – as some customers really value the convenience of having repairs done at their home or place of work. Accordingly, two of Andy's employees work from ChipsAway vehicles and between them, Andy and his team, currently repair around 75 cars a week.
Andy has recently recruited another young employee to help him in the CarCare Centre. His plan over time is to build a larger team of technicians to enable him to gradually spend less time physically working on repairs and more on marketing and business development.
From the outset, what originally attracted Andy to ChipsAway was the clear potential of the business opportunity, coupled with outstanding, ongoing support from the franchisor.
The training is thorough and new franchisees are mentored on a one-to-one basis by successful and experienced franchisees. Following training and launch, ongoing access to business support, technical assistance as well as strong central marketing support is available whenever needed. More established franchisees can expect continued encouragement, advice and practical assistance as they come to consider the best way to expand their business. As Andy observes, "If you want to make serious money, the ChipsAway team are behind you all the way!"
These days, Andy himself is also a ChipsAway Business Mentor, providing that same support to new franchisees, sharing his experience and expertise to give them the best possible start. He is also a good example of a franchisee that has enjoyed direct impact from the ChipsAway's national marketing activity, particularly the highly successful TV campaign. The advert is designed to build awareness of both the brand and the repairs ChipsAway can carry out and has been instrumental in significantly increasing repair leads to franchisees nationwide.
July 2011 saw record figures for repair leads generated for the network – 47% up compared to the same period last year, with overall leads year-to-date 35% up! The franchisor's latest TV campaign, which launched in July, is expected to have a further long-term effect, says ChipsAway's Marketing Director Robin Auld. "TV advertising has had a tremendous impact on brand awareness and lead generation for our franchisees. Last time we appeared on TV, we achieved a record number of repair leads, including a 21% month on month increase through Google Pay Per Click activity. We are also seeing higher traffic than ever to our national website and feel confident that this latest investment in national television advertising will push figures to a new high for 2012."
For Andy Darby, his business has gone from strength to strength, with demand accelerating over the last couple of years. Within months of launching, he was earning the same level of income he had in the Army and this has continued to rise.
"Naturally I've had to invest in extra vehicles, territories and employees as well as my CarCare Centre, but it's all been done on the strength of income from the business. I've not had to borrow externally at any point – and I'm very proud of that," he states. "I really enjoyed being a soldier, but I have no regrets whatsoever about investing in my own business; I certainly chose the best franchise and have been very happy with my decision to expand and open a ChipsAway CarCare Centre – being my own boss is great. The rewards are there if you're prepared to work hard and the satisfaction of seeing your business become increasingly successful is absolutely fantastic!"
Andy concludes, "I'm very happy with the way my business has grown. I always planned to build it steadily and feel proud that I've managed to enjoy an excellent lifestyle, whilst still being able to afford to re-invest fairly substantially in developing a successful management franchise."